News
The Return of Wing Night – Our New Farm to Table Initiative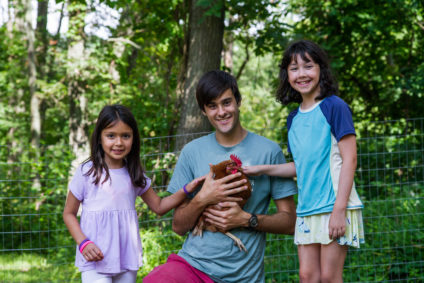 Camps Airy & Louise are thrilled to announce a new, farm-to-table initiative for summer 2017, "Wing-a-Palooza." Powered by the Amir farming program at Camp Louise, and imagined by the Dining Services team at Camp Airy, our camps will raise, deep fry, and eat wings all summer long. Buffalo, teriyaki, old bay and more will be the flavors on the menu.
"We wanted to go beyond wing night," said Erin (Abrams) Schiff of Airy. "Pub grub and tailgate themes were cute, but we're upping the ante."
"We'll be eating the fruits – and chickens – of our labor," said Louise's Andi Abrams. "Why settle for a wing night when we can have a wing summer?!?"
To accommodate the need for more chickens, the area by Airy's CIT bunks will be converted to a chicken farm. Airy Director Marty Rochlin cited the proximity to the kitchen, and a similar odor, as two reasons for the location choice.
When asked her thoughts, Alicia Berlin, Director from Camp Louise remarked, "I'm excited for what this summer has in store- and even more excited about the potential to expand our farm to table practices to the rest of the Amir animals. Korean duck, Goat dumplings, the possibilities are endless!"
Stay tuned for further developments.