Corks for Camp – Wine Tasting Event 2021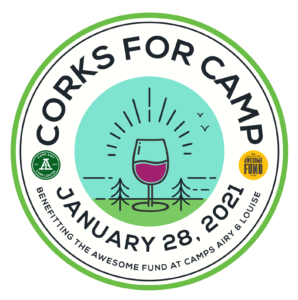 We hope that you will join us for an educational and fun evening to learn more about wine and support Camps Airy & Louise. Click here to see the wines that we will be tasting and to download the tasting notes. All four bottles of wine are $20 or less and available at local wine stores including Total Wine.
All proceeds will support The Awesome Fund, which supports our campership program. All donations are tax-deductible. ALL participants must be 21+ to attend.
We look forward to "seeing" you on January 28 at 7PM.