We take great pride in the quality of our superb staff, which consists of college students and education professionals from all over the U.S. and the world. We often have friends from the UK and Europe on staff, while every grade level enjoys the company of counselors from Israel.
Each staff member is carefully selected based on skills, prior experience and motivation for working with children. Every individual is interviewed personally, submits references which are carefully verified and is given a thorough background check in accordance with American Camp Association and Maryland Youth Camp Safety Act regulations.
We are happy that our supervision ratio exceeds that set by the American Camp Association. We enjoy an unusually high rate of returning staff, including "homegrowns" (staff members who are formers campers at Camps Airy & Louise), thanks to our warm atmosphere, excellent staff facilities and experienced senior staff members.
Jonathan Gerstl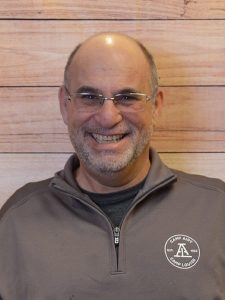 Executive Director, Camps Airy & Louise
With 30+ years of experience, Jonathan Gerstl has a distinguished career in Jewish communal services including JCC's, Hillel programs, and resident camping. Jonathan began serving at Camps Airy & Louise in 2009 as our fifth executive director.
He started his career as a camp director of the New Haven JCC and then assistant director of the Sarasota Florida JCC. From there he served as the director of Camp Young Judaea Texas. After his time with Camp Young Judaea, Jonathan moved to Israel for five years working as an entrepreneur in global travel network technology. After returning to the United States, he served as the executive director of Jewish life at Duke University. Prior to his current position with Camps Airy & Louise, Jonathan worked as a consultant developing travel immersion programs in Europe. Jonathan is also a founding member of the Association for Independent Jewish Camps (AIJC).
Jonathan graduated from Temple University with a Master of Education in Recreation and Tourism Management.
Quotable Quote: Without love in the dream, it will never come true. – The Grateful Dead
---
Marty Rochlin
Director, Camp Airy
Starting as a camper in 1984, Marty filled nearly every role at Camp Airy – counselor, unit leader, assistant director – before being named Director in 2014.  In fact, this is his second time working for camp year-round, after a two-year stint as a full-time assistant director in 2000-01.  Before coming back as Director, he worked in the school system as a teacher and administrator, helping prepare him for his current role.
During the summer months, it's his job to be responsible for everything that happens at camp.  Which means during the off-season he has to "prepare camp to be AWESOME", working to recruit & retain campers, meeting new families, interviewing and hiring staff, participating in training and conferences, plan for upgrades to camp itself and connect with alumni.  As he puts it "if I do it right, all I have to do in the summer is tell bad jokes and oversee the Wheel.Of.Birthdays."
His favorite thing about working at camp is that he gets to both work and play at the same time.  His family often joins him for the summertime in Thurmont – his wife Pam teaches during the school year and fills a variety of roles during the summer, and his daughter Lilly has spent many years at our sister camp, Camp Louise.  And his dog Rory quickly became a favorite to everyone who visits Marty's cabin.
Quotable Quote: "Live life joyfully." and "Whatever you are, be a good one."
---
Alicia Block Berlin
Director, Camp Louise
It's not an exaggeration to say that Alicia has spent her entire life at Camp Louise.  She began in 1980 as a camper, and over the next 30+ years she has gone from CIT to Counselor to Unit Leader to Assistant Director and, since 2008, Director.  It's her experiences throughout that get translated into everything she does at Camp Louise, helping create lifelong memories and friendships for campers and staff alike.
When she's not at camp in the summer, she's constantly learning and working on programming, recently participating in the Jewish camp fellowship program Lekhu Lakhem.  Building a strong camp community starts with traveling around the country and around the globe to recruit the best staff imaginable, while at the same time meeting with new prospective campers and maintaining her relationships with current ones.  Camp Louise is built on a nearly 100-year legacy, so she's proud to add 3rd, 4th and even 5th generation campers, while also excited to bring in brand new campers with no previous connection.
Her family is also a camp family – she married an Airy camper (who's now Director of Operations for Camps Airy & Louise) and their three girls are all Louise campers.  When she's not working, she loves spending time with her family and friends – and beating them in games like Bananagrams, Apples to Apples, Scattergories, Phase Ten and more.
Quotable Quote:  "In a world where you can be anything, be kind."
---
Neil Berlin
Director of Operations
Everybody at camp knows Neil, and it seems like it's always been that way. As a camper, he often stayed the majority of the summer, getting to know all the campers and counselors around him. And now as the Director of Operations for both Camp Airy and Camp Louise, he's still the central figure where everyone turns for everything from Human Resources to Technology to Camp Advocacy.  Neil is the present co-chair of the Maryland Youth Camp Safety Advisory Council, a Governor-appointed position charged with advising the Maryland Department of Health in all camp matters. Neil is also the Government Relations Chair for ACA Chesapeake and the founding member of the Maryland Camp Coalition. 
After working for IBM for 15 years, Neil returned to camp full time in 2015.  He loves working for the place that gave him so much in terms of his own identity – a great camper experience, a great experience as a counselor and ultimately a wife (he's married to Alicia, the Director of Camp Louise) and three wonderful girls who've grown up on the mountain.  When he's not working on staffing, accreditation or any of the myriad of back-end tasks that are essential to running each summer smoothly, he loves spending time with his family and attending the theater.
Quotable Quote: "Quotes found on the internet are not always accurate." – Abraham Lincoln
---
Lauren Perlin
Director of Development
Since 2016, Lauren has worked full-time for Camps Airy & Louise leading our fundraising efforts.  She splits her time equally across two roles: Raising money for camperships through The Awesome Fund; and curating larger donations for our Capital Campaign. She's proud not only of the fact that each year The Awesome Fund continues to grow, but that her efforts helped lead to the recent dedication of "Jill's Place", the multi-million dollar, state-of-the-art performance center at Camp Louise.  She also spends a considerable amount of time reaching out to camp alumni to reconnect them to all the incredible things happening at camp today.
A former camper at Louise, she married a former Airy camper & counselor, with whom she now has three daughters soon to follow her as a Louise camper. And, she's proud of her Jewish identity, having celebrated her Bat Mitzvah at age 35 in Israel at the Wall while traveling with hundreds of Jewish women from around the world.  When not meeting with alumni or giving tours of camp, she spends time on her Peloton or on her boat.
Quotable Quote:  "You can always, always give something, even if it's only kindness" – Anne Frank
---
Amy Bram
Director of Creative Initiatives
Amy joined the camp staff full time in 2018 as the Director of Creative Initiatives, after spending several summers filling a variety of roles around Camp Louise – from Outdoor Adventure Coordinator to Swim Director.  In her current job, she is responsible for designing and running non-camp sessions that happen at camp.  This includes Airy & Louise Family Camp, developing partnerships with outside organizations such as Brave Trails, and creating new initiatives like the annual Fall Festival.
A life-long camp person (as is her husband), she's done nearly every job at one camp or another, including working on the maintenance staff.  But the one thing she hasn't done is work in the kitchen, which is ironic since menu planning and cooking are two of her favorite activities.  Why does she do it? Because she can "wear yoga pants to work."
Quotable Quote:  "Well behaved women rarely make history."
---
Susan Vogel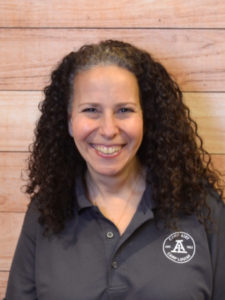 Business Manager
Susan has been working for Camps Airy & Louise since the summer of 2014 when she started helping out with mail and canteen at Camp Louise. Since then, she's grown into a full-time position as our Business Manager, supporting the entire team and leading our Private Group Rentals each spring and fall. This year alone, Camps Airy & Louise had 33 groups on either side of our traditional seven weeks in the summer!
Susan grew up in New York City, and love brought her down to Maryland. She and her husband Bruce have two children who both attend Camps Airy & Louise. When Susan isn't at Camp or with her family, you'll find her starring on Wheel of Fortune or galavanting around the Big Apple.
Quotable Quote:  It's not whether you get knocked down, it's whether you get up. — Vince Lombardi
---
Zac Plotkin
Assistant Director, Camp Airy
Zac brings something to the table that not many of our staff do – he'd never been to Airy or Louise before joining us on staff (he's not a complete outsider – his two sisters did go to Camp Louise)! However, he spent years working at other camps, and brings all of that experience to running the Trainee Division for Camp Airy.  During the offseason, he also helps recruit campers and staff members, and works on integrating new ideas and experiences into our Trainee leadership curriculum.
He truly enjoys the positive impact that camp (and his role as the Trainee Division head) creates for so many people. In training the next generation of leaders for Camps Airy & Louise, he's looking beyond just the skills needed for a great summer – and that includes how to set up a tent and cook around a campfire (two passions of his own). He spent a year after high school living in Israel, giving him worldly experience he brings to his current role.
Quotable Quote: "Life moves pretty fast. If you don't stop and look around once in a while, you could miss it." – Ferris Bueller
---
Jaci Steinhart
Assistant Director, Camp Louise
Jaci is the newest member of the Camp Louise leadership team, joining us for her first summer in 2019. But while new to our camp, she grew up at overnight summer camp and worked as a counselor during college. She brings her broad camping perspective into her role as Assistant Director, helping with everything from recruiting to programming to staff training.
A "people-person" at heart, Jaci loves meeting new campers, parents and staff members. In fact, it's her favorite thing about working at camp. A former high school and college lacrosse player, Jaci is very much a team player and looks forward to contributing across the board at Camp Louise.
Quotable Quote: "Life is better when you're laughing."