Inspiration
Camps Airy & Louise are located just a 20-minute drive apart in the Catoctin Mountains of western Maryland, an area of natural beauty that inspires and reinvigorates our campers. Our grounds are extensive, covering 700 acres of naturally beautiful mountains and valleys.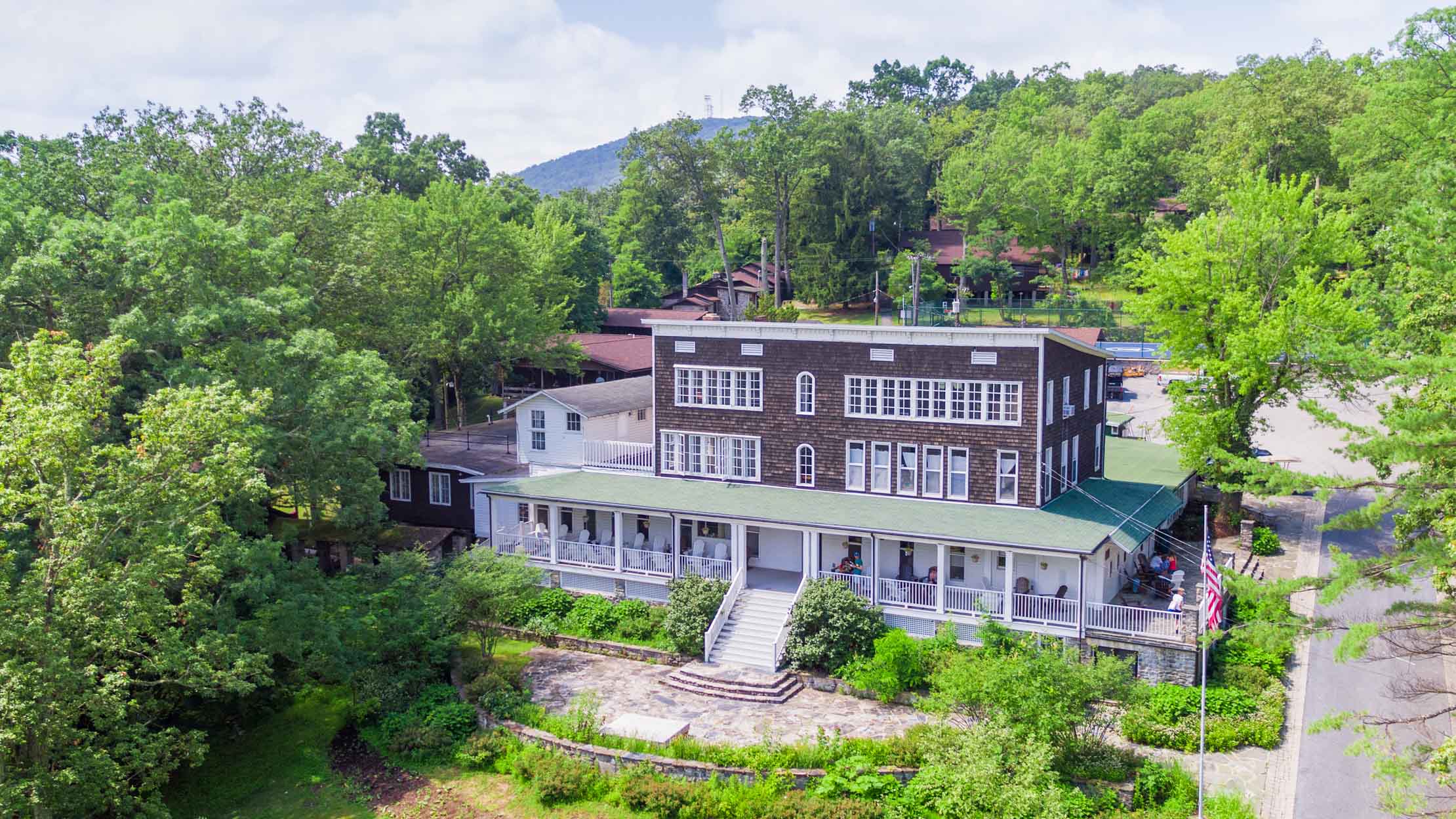 Comfort
All camp buildings are created to enhance the landscape that surrounds them while giving our campers and staff comfortable and modern living quarters. All our buildings are sturdy and built to the highest standards of safety and comfort. Our bunkhouses are home to 12-14 children and three counselors, with comfortable wooden bunk beds, extra thick mattresses and adequate storage space for each camper. At Camp Louise, every bunk is equipped with its own bathroom that includes shower, toilet and sink. In most Camp Airy bunks, there is a connected bathroom with sinks, stalls and two urinals. Our younger campers live in these types of bunks. The showers at Camp Airy are in separate buildings, with every four bunks sharing a shower house. Older campers sleep in bunks that use a nearby bathroom/shower house instead. All bunks in both sites have covered wooden porches.
Bunk counselors enjoy the extra privacy of a separate sleeping nook within the bunkhouse, while out-of-bunk specialist counselors share similar wooden cabins that are dotted around the grounds. Staff and counselors get to hang out in the staff lounge or Cabana for privacy during their downtime, or across our beautiful outdoor spaces. Staff are also able to do their laundry at a number of locations across both camp sites, while campers' laundry is done for them.
At each campsite, campers and staff gather in the multipurpose dining hall which is fitted with air-conditioning, projectors and a sound system with plenty of space for 600+ campers in each hall. Our fully modern, clean and hygienic kitchen enables our excellent cook staff to furnish three healthy and delicious meals, plus snacks, to hundreds of growing campers every day.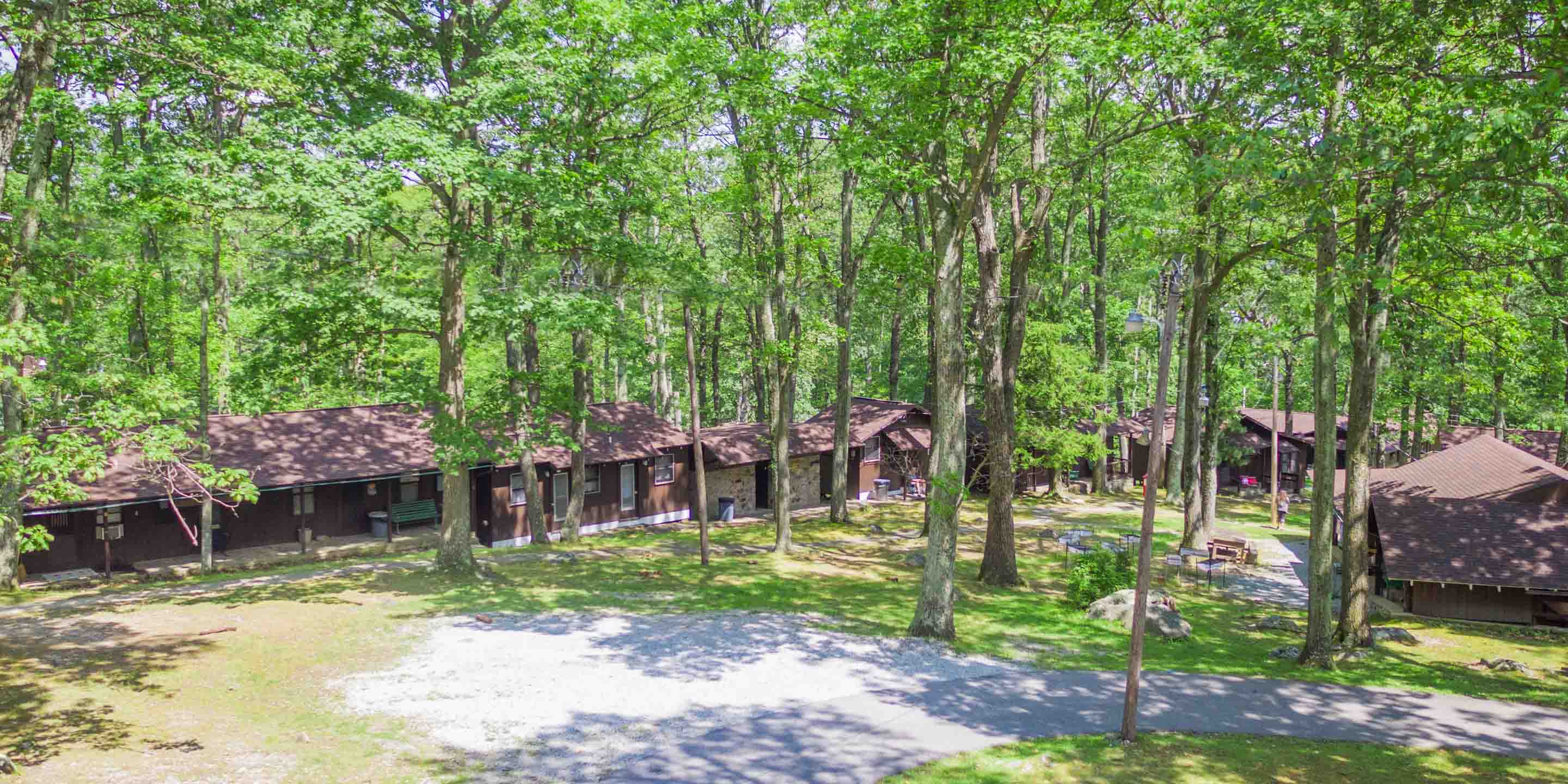 Fun
From water slides at the pools and extreme ropes and initiative challenge courses to the ceramics kiln, therapeutic garden and fully-equipped multimedia studio, Camps Airy & Louise have everything campers need for a summer full of fun.
Health & Safety
Camps Airy & Louise have 24-hour security coverage as well as fully equipped Health Centers. Two physicians and up to five registered nurses are on site 24 hours a day, 7 days a week.
Facilities
Camp Louise has served as a fun and creative retreat for generations of young women. The camp boasts impressive modern facilities, including:
| | |
| --- | --- |
| Multiple dance and drama workshop rooms, including a dance studio with special flooring and mirrored walls | Multiple state-of-the-art athletic fields, including two with lighting for evening play |
| Multiple music studios for classes and personal instruction | An outdoor adventure center, featuring our high ropes and initiatives course, 500′ zipline, and 27′ climbing wall |
| Video and digital photography studio with editing capabilities | Two swimming pools (a shallow-water pool and an Olympic-sized deep-water pool) plus a giant three-tube, 30′ waterslide |
| Outdoor amphitheater fully outfitted with lighting and sound capabilities | Multipurpose dining hall where all campers can gather with air-conditioning, projectors and a sound system |
| "The Farm," our organic, on-site garden | Tent campsites and many campfire circles |
| Archery Range | Tennis Courts |
| Arts & Crafts center, including copper enameling and pottery facilities | |
See for Yourself!
Take a virtual tour or contact susan@airylouise.org for facility rental information.