Airy Blog
Camp Airy Shark Tank: New Playground
Camp Airy is home to athletes, rockstars, theatre gurus, woodworkers, and now… entrepreneurs!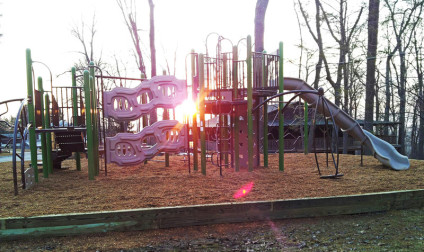 Introducing the new Airy playground! Located next to the BOJC building (previously known as the office), this element was designed for all skill levels. The playground boasts numerous obstacles and challenges for Airy campers to traverse, climb and explore.
The idea to build a playground blossomed during the Camp Airy first session edition of Shark Tank in 2014. Bunks developed ideas to enhance Camp Airy. Their ideas competed on the unit level, and then the best idea from each unit was presented to the "sharks" in front of the rest of camp. Ideas ranged from an activity called "Liter-Airy" to nets under the bunks to catch runaway frisbees and basketballs. One idea stole the heart of everyone in the crowd, including two visiting alumni from the Order of the Leaf, Art Drager and Richard Biller.
Bunk 27 started their pitch with the smallest member saying, "Good evening, shark fellows." They went on to act out a skit about why the existing playground was outdated and ineffective. With encouraging cheers from the rest of camp, Shark Sybil and Shark Erin decided this was a worthy investment, but it came with a constraint.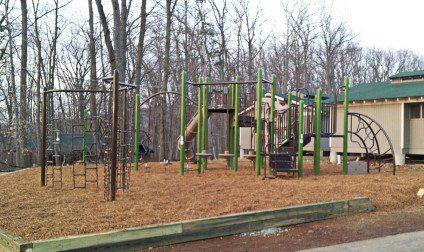 A playground is not a cheap endeavor. And while camp was willing to invest as much as they could, this was a project that we'd need to fundraise for. Sybil and Erin agreed to help Bunk 27 raise the funds needed to create the playground, warning that it may take up to 2 years to be fully-funded. The bunk eagerly agreed to assist with fundraising, but turns out they didn't need to.
Art and Richard immediately approached the director and agreed to contribute a large sum to the project. With that, Airy found the perfect playground and began construction while continuing to fundraise for the remaining balance.
With the help of more donors, we have raised money to cover about 75% of the playground. If you'd like to make a contribution to the project (or to any camp project), visit the donate page. Any amount will ensure that the playground will be a permanent structure at Camp Airy.
Thank you to all donors who helped to make this possible.
Watch a clip from Bunk 27's pitch to the sharks: