Airy Blog
Director's Blog – July 12, 2019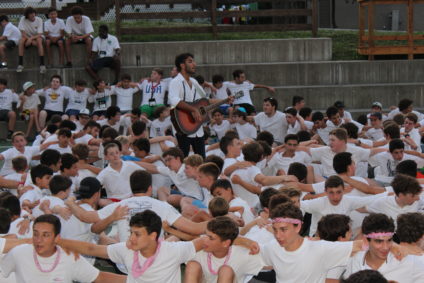 "At Peace in Our Summer Home"
One of the best ways that camp has grown over the years is with our Friday night program. We used to have Friday night services in the dining hall, and later campteen and a movie as a whole camp. And for the first two weeks of the summer, weather forced us into a similar situation with Shabbat at our bunk tables in the dining hall. This Shabbat, however, it all came together beautifully.
We were able to gather at the campfire site behind Village Row for Shabbat services. Rachael led, Dan and Ido accompanied, and camper-counselor duos led songs and prayers. Kudos to Toni and Miriam, Junior Camp Division Head Doug, CIT Division Head Zac, and Airy alum Ryan for their service participation. Following dinner and dessert and Birkat Hamazon, we threw in a new wrinkle. We took song session to the Cohen Theater – after all, why not take advantage of the new benches, but also the new sound system? Dan and Ido, joined by Michael who was visiting, led the camp in wide array of songs – "The Cat Song" made its first appearance of the summer, in addition to old favorite "Shigaon" and new favorite "Spirit in the Sky."
But wait, that's not all. There was still dancing to do. The crowd, already energized by song session, headed over to the Village Row Basketball Court and dived right into dancing. Rachael donned the wireless headset, and flanked by our shlichim, led campers and staff in group and line dances. "Golden Boy" kicked things off, and "Sieben Sieben" closed out the four-song soiree.
But wait … that's not all either. As you see pictured in the blog, the bunks gathered in circles for two last songs … "Salaam / Od Yavo Shalom Aleinu"" and our "Goodnight Song." Both songs emphasize peace – that peace will come upon us, and being at peace in our summer home. It never ceases to amaze me how our campers and staff can show so much ruach and energy at one moment, and then they can sense the mood of moment to become settled and thoughtful. From Shabbat to Shabbat each week, we have new staff join us, as well as guests from Camp Louise. They say to me "I've never seen anything like it." I just smile.
And then I settled in for a movie with a campteen treat.
So long until the next blog,
Marty
Today's Birthdays

Marco – Staff
    UNIT SPOTLIGHT – Unit F    

Last week I spoke about how our theme in Unit F is "Fiesta" and that Fiesta literally translates into celebration. Well this week, we really had something to celebrate.
There is a saying at camp that the days feel like weeks and the weeks feel like days which is very true but I also feel like this relates to our summer as a whole. Somehow the boys I had the honor of meeting as junior campers are now ready to become trainees.
On Thursday night we rode over to Louise for the official Unit F Graduation Ceremony. It was a fun event, with traditional ceremonial music and attire, and speeches from alumni and faculty. The guys and the gals got to spend some time together afterwards and work as a team to compete in a lip sync battle. Afterwards we danced and ate a lot of cake before saying tearful goodbyes and heading back to Airy!
Be sure to check out all the photos in Camp-in-Touch.
~ David, Unit F Unit Leader
Today's Menu
Breakfast , Lunch , Dinner
Omelets – cheese and veggie | Home Fries | Mini Bagels | Cereal | Fruit | Yogurt , Chicken and Steak Subs | Peppers and Onions | Tater Tots | Broccoli | Salad Bar | Pasta Bar , Chicken Noodle Soup | Brisket | Carrots | Latkes | Challah | Salad Bar | Pasta Bar | Cobbler

Today's Weather

High: 88°F | Low: 70°F
What a splendid sunny day!