Louise Blog
Director's Blog – July 13, 2019
GIVING BACK 
Bat Mitzvahs – what an exciting time for many of our campers….studying Torah, learning the prayers, planning the party, choosing the theme, working on the invitation list, shopping for outfits, so much to do! One of the most meaningful is deciding on a Mitzvah project. These three girls were told to find something they were passionate about, something they love, something that is a part of who they are and guess what they chose….CAMP!
Dylan, Lily and Madelyn all chose to raise money for the Camps Airy & Louise Awesome Fund – our campership program to help families who need a little extra financial help to send their children to camp. During Shabbat services this week, these three campers spoke about why they chose to support the Awesome Fund for their Mitzvah projects.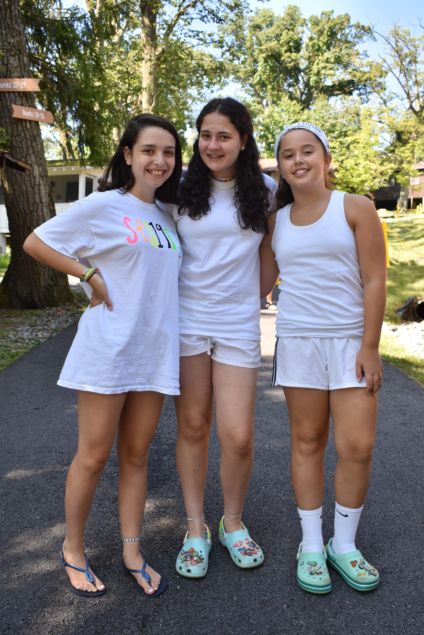 Dylan said that camp is her summer home. She wanted to give other kids the chance to come to camp, like she does every summer. In fact, Dylan's theme for her Bat Mitzvah this past April was camp so it was the perfect thing to do for her project. Dylan sold these postcards and all of the money raised went to the Awesome Fund.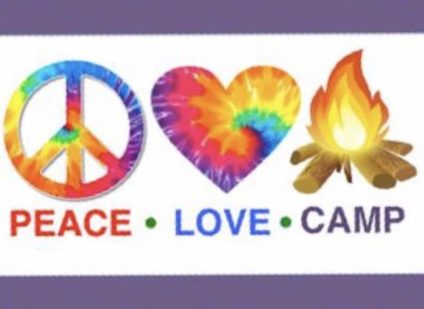 Lily's Bat Mitzvah is coming up in September.  She loves camp so much and it is such a big part of who she is. She wanted to give other kids the same opportunities she has.
Madelyn's Bat Mitzvah was in 2017 and she shared these thoughts during services today:
"Just like these girls, I raised money for the Awesome Fun for my Bat Mitzvah project. I chose this because camp has been such a special place for me for the past seven years. The Awesome Fund is a foundation that financially aids families to send their children to Camps Airy & Louise. At Camp Louise, I have made lifelong friendships and am now more in touch with my Jewish identity. On the first day of camp my first summer, I walked up the hill a shy little girl who didn't know anyone, and seven years later – I'm a new outgoing person with lots of new friends. I've left my comfort zone and I've done many new activities here that I wouldn't do at home. If I hadn't come to camp, I would never have the courage to go on anything close to the Adventure Park or be brave enough to dance in front of a crowd. Camp has changed my life and I want to help other girls have the same amazing experience. Camp Louise has given me the opportunity to not only try new things, but meet new people and form friendships that will last a lifetime."
I couldn't have said it better myself.
Dylan, Lily and Madelyn – thank you from the bottom of my heart for choosing camp for your Mitzvah projects and for living the good! We are so very grateful – as are the many families who benefit from the Awesome Fund, and the beauty is….when everyone shows up on the first day of camp in their shirts, shorts, and crocs – no one knows who donated and who is a recipient of a campership.
I love that about Camp Louise!
Alicia
NOTE: A fundamental part of Aaron and Lillie Straus' vision for Camps Airy & Louise was that every Jewish child be given the opportunity to enjoy summer camp, regardless of their ability to pay. We perpetuate their values by ensuring that every camper has the opportunity to 'Find Their Inner Awesome' – hence the name of the Awesome Fund. If you are interested in donating to the Awesome Fund or perhaps doing your Mitzvah project to support camp, read more on our website.
Today's Birthdays

Abby – Bunk 28
DIVISION SPOTLIGHT – Trainees

Shabbat Shalom from the Trainee Division!  We had an action-packed day of rest today.  The wonderful sounds of the CIT choir filled the Solarium during our Shabbat service.  This is one of my favorite parts of camp – everyone sitting in their whites and joining together in songs and prayer.  After lunch, we all enjoyed a dip in the pool and the CITs planned and led activities all over camp.  Tonight after a fabulous film festival, the CAs led camp's Havdallah service and the STs are reading stories to Junior Camp bunks.  We can't wait to see what's in store for the next week of camp – Shavua Tov!
 Erica – Trainee Division Head
Today's Menu
Breakfast, Lunch, Dinner
Scrambled Eggs | Mini Bagels | Berries, Make Your Own Sandwiches | Turkey | Turkey Bacon | Hummus | Lettuce Tomatoes Onions | Salad Bar | Pasta Bar, Chinese Dinner | Chicken | Beef | Stir Fried Veggies | Rice | Egg Rolls | Edamame | Oranges | Fortune Cookies | Salad Bar | Pasta Bar
Today's Weather

High: 86°F | Low: 69°F – Another gorgeous day at camp!