Louise Blog
Director's Blog – July 20, 2016
COLOR GAMES – HIGH SCHOOL MUSICAL STYLE!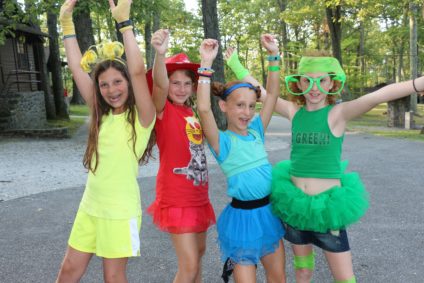 The much-anticipated day has arrived! Last night after a great performance by the Israeli Scouts Tzofim Friendship Caravan, we got ready for our Goodnight Song which we sing every night…but things were a little different. The captains, lieutenants, and co-captains broke Color Games 2016!
The theme – High School Musical
The teams – Red Troy, Blue Sharpay, Green Ryan and Yellow Chad
After singing the Goodnight Song, the campers excitedly went back to their bunks to find out what teams they were on. Colors were posted on their bunk doors. Judges walked around camp as points were awarded for a quiet night so everyone could get ready for a full day of games and activities.
Today started with a musical breakfast. Everyone had to sing everything they needed to the tune of a High School Musical song. Back to the bunks for clean-up where inspection counted toward team points. Before heading to activities, everyone went to their first team meetings of the day to start learning their team songs and cheers, find out about the schedule for the day and to get pumped up with lots of Color Games spirit! This morning, there was a rotation of activities at the pool, on the field and in the gym. Busy! Busy! Busy!
After a very loud, spirited morning, we had a silent lunch – a beloved meal…for staff. As notes were being passed around, teams were awarded points for being quiet. It was pretty amazing! The afternoon included some game shows (Name That Tune and Jeopardy), a full team Bucket Brigade, and Counselor Hunt. During dinner, bunks came in with hands tied together because of course, "We're All in This Together!" After dinner, we had closing ceremonies – my favorite. Each team presented their banner, song, and cheers. Captains performed a final skit together and the winner was announced…THE BLUE TEAM!
What a fun, spirited, amazing, exhausting and incredible day for everyone!!  Check out the highlights below!!
Alicia
[bq_color]
Today's Birthdays

Shayna – Bunk 35
Emily – Bunk 9
[/bq_color]
Today's Menu
[table "" not found /]
Today's Weather
High: 84°F | Low: 80°F – Gorgeous day!