Louise Blog
Director's Blog – July 8, 2016
Middah of the Week – Gratitude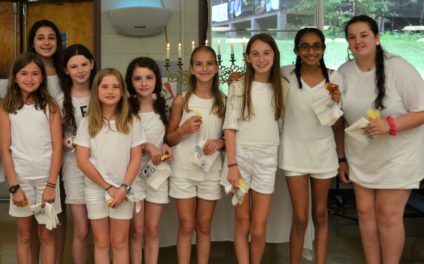 This week's Middah of the Week was gratitude. In Hebrew, hakarat hatov literally means recognizing the good. At camp, we spent time talking about seeing the good things in our lives, appreciating them, paying attention to them, and thanking whoever or whatever has brought those good things into our lives.
Campers and staff are nominated to light candles during our Shabbat services on Friday night because they have demonstrated the Middah of the Week. This week, nine campers (see picture) were chosen to light the candles. As their names were called, the campers proudly came up to light our Shabbat candles.
The campers who lit candles tonight were nominated because they were always:
Willing to help other campers and counselors
Smiling
Excited
Expressing thankfulness
Saying thank you to others
Making sure to show their bunkmates and counselors how thankful they are for them by being kind and caring when people are upset
Giving back to the camp community
Lending a helping hand wherever it is needed
Expressing gratitude with her time and energy
Grateful for what they have
Each day, there is a message in the Daily about the Middah of the Week. My favorite one this week was:
Living in a balanced way means your "thank you" list should be longer than your "I want" list.
Think about your lists……How's your balance today?
Shabbat Shalom!
Alicia
[bq_color]
Today's Birthdays

Mya – Bunk 30
Cassidy – Staff
[/bq_color]
Today's Menu
[table "" not found /]
Today's Weather
High: 91°F | Low: 73°F – Hot this morning with some late afternoon rain to cool things off….