Louise Blog
Director's Blog – June 26, 2019
Our Amazing 98 1/2 Year Old Alumna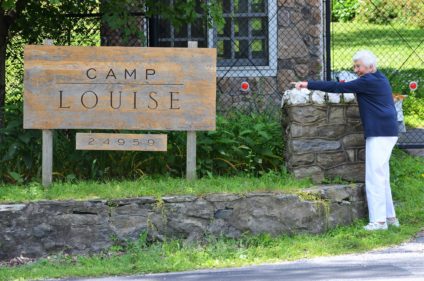 We had the great pleasure of having a visit today from an amazing 98 ½ year old alumna of Camp Louise. Bunny went to camp from 1931-1937. She even met her husband Leonard at Camp Airy and they were married for 69 years.
When Bunny started at camp, she came with a friend who she knew from home and they are still friends today! This was actually the bunkmate who introduced Bunny to her husband. The friend lives in New Jersey and was a little jealous of Bunny's trip to camp today, but Bunny promised to call her and tell her all about it!
During today's visit, Bunny shared memories about the activities she enjoyed when she was a camper. She loved dance, especially ballet. Other favorites included art, drama and basketball. She really loved it all – except for swimming in the lake.
Bunny reminisced about our founders Uncle Airy and Aunt Lil, as well as Miss Sara and Miss Ida. She talked about how Miss Sara was "lovely but quite strict." We asked Bunny if she ever got into trouble at camp and her response was – "No, no!" She went onto explain that she was the oldest of three, and felt that she always had to set a good example. She described herself as a "goody two-shoes."
Bunny's great-granddaughter Joanna (who is a 7th year camper and in the first year of our leadership training program) joined us and told us how cool it is that her grandmother and great-grandmother both went to Camp Louise. "It's just part of our family!"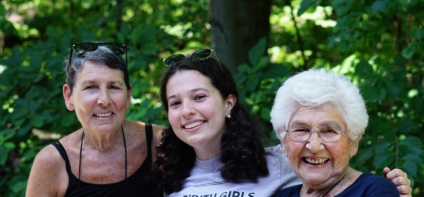 Bunny hasn't been to camp since she dropped her daughters off when they were campers in the 50s. We asked Bunny how camp has changed in the last 60+ years. Bunny explained that a lot is different, but the feeling and the friendships are the same.  And I think anyone who went to Camp Louise, no matter when, can attest to that!
This was a truly special day for our camp community!  We are so grateful to welcome Bunny back home to Camp Louise!
Alicia 
Today's Birthdays

Lucy – Bunk 20
UNIT SPOTLIGHT – STs

We are all about helping others in Camp Louise! As we are getting closer to this Saturday, our wonderful STs are getting ready together with Rabbi Elissa for "Louise Lends A Hand"- our community service based project. The STs are very excited to be part of it, they loved hearing about the people we will be helping, they initiated activities for the campers, helped develop ideas and demonstrated so much interest in helping others. I am so proud to see the girls being a part of such a great project we do in camp year after year. Can't wait for Saturday!!
Michal, Unit Leader – STs
Today's Menu
Breakfast, Lunch, Dinner
Egg McAiryLouise | English Muffins | Egg Patty | Cheese | Meatless Sausage | Melon, Grilled Cheese | Tomato Soup | Goldfish | Tator Tots | Broccoli | Waffle Fries | Salad Bar | Pasta Bar, Chinese Chicken or Beef | Stir Fried Veggies | Rice | Egg Rolls | Edamame | Oranges | Fortune Cookies | Salad Bar | Pasta Bar
Today's Weather

High: 85°F | Low: 65°F
The sun is shining down on us here at Camp Louise!