Airy Blog, Louise Blog
How Going to Summer Camp Teaches Inclusion
NO CAMPER LEFT BEHIND – CAMPS AIRY & LOUISE MAKES EVERYONE FEEL INCLUDED
Picture this: you are 12 years old and your parents have just dropped you off at sleepaway camp, where you will spend the next three weeks. You are so excited to meet new friends and try new activities. But, you've never been to camp before. Not a single face is familiar and you don't know where anything is, and can't remember the names of your counselors. You start to wonder, what if you're really different from the other kids in your bunk? What if you don't fit in?
Lucky for you, summer camps are great places for teaching and fostering the value of inclusion. At camp, boys and girls come together and form a unique community. Usually, there is a common denominator, be it gender, religious affiliation, talent or an affinity for a particular activity. But, even if you don't feel very connected to that common thread, the camp environment, staff members and programming will work together as a well-oiled machine to ensure you feel connected to camp and the camp community.
Let's take a look at how inclusive Camps Airy & Louise can really be.
INCLUSION THROUGH EDUCATION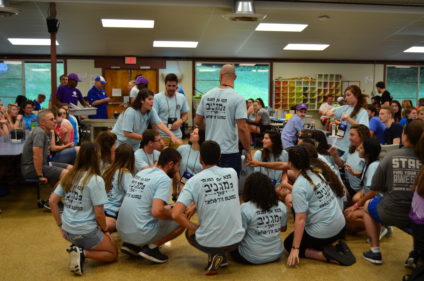 Information education is a benchmark of summer camp programming. Camps use "teachable moments" within daily situations to impart knowledge and transmit values, while keeping the atmosphere fun and fresh. At Camps Airy & Louise, informal education programs introduce elements of the Jewish faith to the campers on a basic level, allowing boys and girls to get acquainted or deepen their knowledge and appreciation of the common link they all share – their Jewish faith, no matter their individual backgrounds at home."You can be a Reform Jew, or a Conservative Jew, or a Zionist," explains Jonathan Gerstl, Executive Director of Camps Airy & Louise.
"Everyone asks, what are Airy and Louise all about? We're about community. How you live and how you present yourself within the community. How we connect within the community structure… For years, Jewish summer camps weren't producing high quality programs and activities. So, they developed all these incubative camps – sports camps and science camps. They were program-specific because they felt that the Jewish camping world wasn't acknowledging specialties… We're not only about Judaism and community, but that is where our true soul lies. That's what makes us unique and different." At Camps Airy & Louise, it doesn't matter how you are Jewish or how Jewish you are. At camp, everyone is empowered as members of an inclusive Jewish community. Everyone joins in for the morning's "Hamotzi" (blessing on bread) chant. Everyone wears white 
on the Sabbath. Everyone can learn the Middah of the Week at Camp Louise, or earn the title of "Mensch on a Bench" at Camp Airy. There are lots of elements of Jewish faith and practice that are taught at camp, whether it's the campers' first time encountering these facets of the religion they belong to or something they know plenty about already.
INCLUSIVELY ACCEPTING, INCLUSIVELY SUPPORTIVE
Jonathan views it as his mission to ensure that all campers, regardless of where they find themselves on the spectrum of Jewish identity, can find their home at Camps Airy & Louise. "We welcome intermarried families and Jewish families that are unaffiliated or under-engaged," he proudly[1]  states. "We welcome you, whoever you are. We are a diverse population, an inclusive community. Our diversity is a big part of what makes us unique. Aside from level of religious affiliation or observance, we have kids from the UK, Israel, the Netherlands and more. We try and create a multicultural experience in our bunks. This sets us apart from traditional Jewish summer camps. Not all of our staff is Jewish."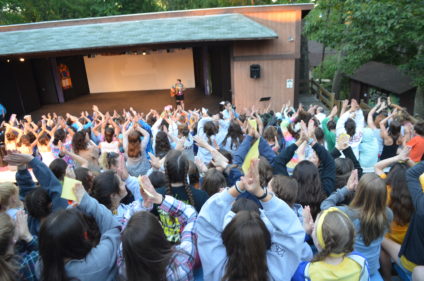 The camps' staff is trained to create an inclusive environment within the bunks and units. They work hard to ensure that no child is left out of formal camp activities or informal hang outs in the bunk. This way, campers who are introverted are just as much a part of the camp community as their extroverted bunkmates, and campers who have one Jewish parent are treated the same as those who come from more traditional backgrounds.

BUNK AND UNIT-WIDE ACTIVITIES CULTIVATE THE INCLUSIVE ENVIRONMENT
The fact is, there's bullying and cliquey behavior everywhere, but at Camps Airy & Louise, a conscious effort is made to nip hostile behavior in the bud. Creating a camp program, where entire bunks or units participate in a single activity, hones the value of inclusion that runs through the camp's veins to its very core and works to create a more inclusive and harmonious camp community. Campers develop a freedom to be themselves, while they explore and express aspects of their common faith AND unique identities.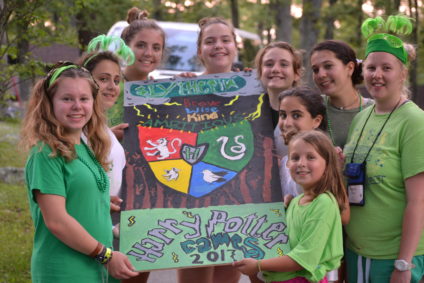 For example, during "Israeli activities," campers learn Hebrew or Israeli songs, take part in a program on Israeli geography, or join together as a group and play and Israeli game. Or, in the glass fusion program, campers can create Hamsa or Jewish Star jewelry, which they can then wear proudly around their necks. These are activities that all campers belonging to a single bunk or unit can take part in together, sharing the knowledge they acquire and the crafts they produce as a cohesive community.
When it comes to informal education, inclusion is a big and powerful lesson. Every camp teaches inclusion differently. Camps Airy & Louise weave inclusion into every aspect of camp life; from the kinds of campers and staff members it caters to and how each member of the camp community is expected to interact, to the structure and function of the camps' carefully planned programs and activities. That's why going to a summer camp like Airy or Louise is taking part in an in-depth and unforgettable inclusion-oriented experience.