You are invited to the first annual SHVITZ FOR CAMP, taking place virtually from March 14 to March 21, 2021. Over the course of the seven-day program, participants are invited to run a virtual 5K, walk, swim, bike outside, row, or ride your Peloton (or any combination of them).  Any and all athletic activity is encouraged and included.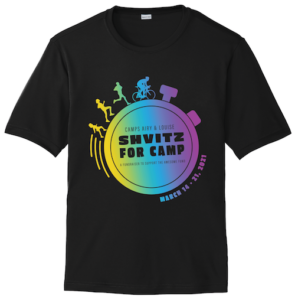 The entry fee for the Shvitz is just $36, with proceeds going toward the Camps Airy & Louise Awesome Fund. There will also be a special commemorative t-shirt for the event for an additional fee of $18.  Current campers who register will receive the t-shirt at no additional charge.  Click here to register to participate in the event.  The deadline to register and receive the shirt is February 17, 2021.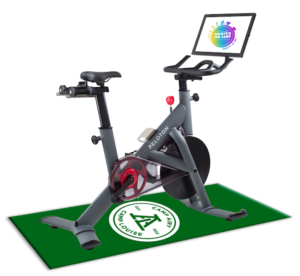 On the last day of the event, Sunday, March 21, we will conclude by participating in a live, virtual, community-wide Peloton ride together. Since Peloton releases their schedules a week in advance, the time/class will be announced the week before. We are hoping to ride together as a community around 11AM EST. If you are a Peloton rider, please use the hashtag #CampsAiryAndLouise when you ride.
If you are looking to support someone participating in any of the Shvitz events, donate in their honor here!
All proceeds will be directed to the Camps Airy & Louise Awesome Fund to support our campership program.
To conclude the event, and give out awards, we will have a virtual celebration for all Shvitz for Camp athletes on March 21, 2021 at 7PM EST. Please be sure to email shvitz@airylouise.org with a screenshot or photo of your steps, route, output, miles, etc so that Camps Airy & Louise can track the athlete's success.
We will be awarding prizes in the following categories:
Most steps
Most laps (pool)
Most mileage (run/walk/jog/bike/dog walk)
Most creative run/walk/jog route
Best output (Peloton)
Most creative outfit
Most money raised
Sponsors are a critical part of the success of Shvitz for Camp. We want to thank our Shvitz for Camp Sponsors which are listed below. If you'd like to add your name to the growing list or would like more information about this wonderful opportunity, please email lauren@airylouise.org.
Please contact Lauren Perlin, Director of Development at lauren@airylouise.org if you have any questions.
Let's get moving!
REGISTER HERE FOR SHVITZ FOR CAMP!