Louise Blog
Tikkun Olam at Camp Louise
By: Erin Weinblatt
The campers and staff members at Camp Louise truly enjoy luxury over the summer. The bunks have ceiling fans, the dining hall offers incredible variety, and the pools come with not just one, but three water slides! However, over the past few summers, Camp Louise has found ways to give as much as we get. In the Jewish culture, this value is called Tikkun Olam.
Tikkun Olam: One of our Jewish values. It means to repairing the world through social action.
Louise Lends A Hand is a camp wide program to support Paul's Place, a non-profit organization with services and programs to help low-income individuals and families living in the Southwest region of Baltimore. Campers and staff help Paul's Place by decorating lunch and snack bags, making sandwiches and trail mix, decorating cookies and making friendship bracelets.
The trainee program values Tikkun Olam as well. Each year, the Counselor Assistants (CAs) volunteer at Camp Greentop. The camp is a residential camp for young children to adults with special needs. The CAs visit Camp Greentop and participate in activities, such as drama, arts and crafts, athletics and nature. In return, our CAs have the opportunity to interact with and learn about individuals with special needs. It is always rewarding watching the faces of both the CAs and the Greentop campers light up through tiny moments of joy.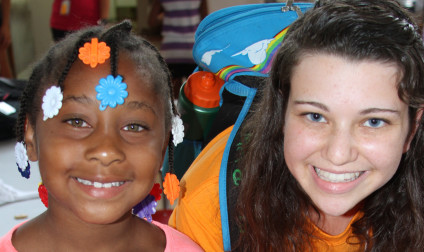 The Counselors-In-Training (CITs) work with Girls Inc., a nonprofit organization focused on empowering young girls, especially those that live in underprivileged communities. Not only do our CITs visit the Girl's Inc. location in Hagerstown, MD, but the girls of Girl's Inc. also visit us at camp! First, the CITs play with the girls, ranging from Kindergarten-aged participants through 2nd graders. Then, Girl's Inc. participants spend a full day at camp enjoying our activities and eating meals in our dining hall. The Girl's Inc. participants love spending the day at Camp Louise and the CITs love treating to them to a special day!
At Camp Louise, we teach about community service and giving back in any way we can. After all, as Aunt Lil, one of our founders, used to say, "live the good you learned here."