June 23, 2021
Families of 1st Long Session Campers –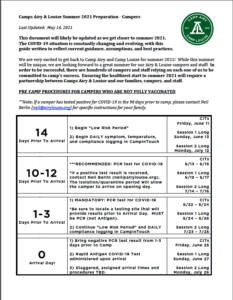 We have been extremely excited to review our campers' COVID-19 vaccination records that have been submitted.  As a result, we, in consultation with our Medical Advisory Committee, have decided to make some program changes for summer 2021's 1st Long Session.  Note that there is NO CHANGE to the pre-camp protocols and testing procedures – both pre-camp and in-camp.  The below changes are in-camp programmatic changes only.  
Trainee Division (rising 10th, 11th, 12th graders) – Based on the 99% vaccination rate of these campers, our trainee division (STs, CAs, and CITs) will act as one household together from arrival day through the end of camp.
Unit F (rising 9th graders) – Based on the 97% (Airy) and 92% (Louise) vaccination rate of these campers, Unit F will act as one household from arrival day through the end of camp.
Unit E (rising 8th graders) – Based on the 94% (Airy) and 97% (Louise) vaccination rate of these campers, Unit E will act as one household from arrival day through the end of camp.
Units A through D (2nd through 7th graders) will continue to operate with the camper's bunk as their household at the start of camp through the first 10 days of camp.  It is our hope that after this infectious period, with negative tests continuing, that we will be able to expand the unmasked/household group to include campers from each unit into a "Unit-level household" (much like how we are operating both Unit E and Unit F initially, as indicated above).
We continue to be excited about the decreasing COVID-19 positivity rates and are looking forward to a safe summer ahead!
We'll see you on Opening Day!
Jonathan Gerstl, Executive Director
Alicia Berlin, Director, Camp Louise
Marty Rochlin, Director, Camp Airy
Neil Berlin, Director of Operations
May 14, 2021
To our great Camp families:
We continue to follow the advice of the CDC, American Camp Association, the state of Maryland, and our Medical Advisory Committee as we prepare for the summer.   With the ever-changing world, we wanted to share some important modifications for summer 2021.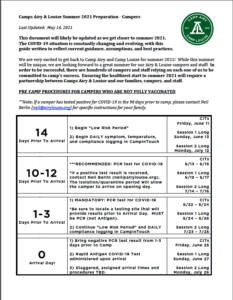 Note that these updates – for both campers and staff – are as of today.  As with everything we have experienced over the past 15 months, this is subject to change.
Key changes are listed below, with updated guidelines here.
PRE-CAMP PREPARATION AND TESTING
For campers who are not fully vaccinated – the low risk period has been extended from 10 to 14 days prior to arrival.  Campers should continue to follow 2 out of the 3 – Outdoors, Distance, and Masks – with all non-household interactions.  A PCR test will be required 1-3 days prior to arrival (this had been 3-5 days prior).  The negative test should be brought to camp as your "ticket" for opening day.
For campers who are fully vaccinated (defined as a full 2 weeks after the second vaccine), there will be no PCR test required prior to camp.  The "ticket" for these campers into camp is their vaccination card, which must be uploaded to CampInTouch to the new "COVID-19 Vaccine Card" form at least one week prior to arrival.
If your camper has tested positive for COVID-19 in the 90 days prior to their arrival at Camp, please contact Neil Berlin for your instructions.
VACCINATIONS
We encourage all of our eligible campers to get vaccinated as soon as possible.  Once the second shot is completed, please upload your vaccination card to CampInTouch.  Note that in order to be "fully vaccinated" by opening day, the second shot must be prior to:
– June 11 for CITs
– June 13 for Session 1 Long
– July 12 for Session 2 Long
The vaccination card must be uploaded at least one week prior to your arrival date to follow the "fully vaccinated" camper process.  If the vaccination card is not uploaded in this time, the camper will be required to arrive on opening day with a PCR Test (that was taken 1-3 days prior).
If you have an eligible camper and need help getting a vaccine appointment, we have staff who can help!  Reach out and we will assist in getting appointments.
STAFF IMPACT
Based on new guidance, and for the mental health of our staff, fully vaccinated staff will be allowed to leave camp for some time off.  We will also continue to move forward with the "at-camp" activities and opportunities that each camp's Staff Life teams have been preparing for Summer 2021.
MASKS
As there will be a mix of vaccinated and unvaccinated campers at camp this summer, the mask policy has not changed.  When the camper's bunk is at an activity by themselves, or where they can be distanced from an instructor, they will be unmasked.  If they are interacting with another bunk or staff member outside of their household, they will be masked.
TOWN HALLS
We are excited to talk more about summer 2021 at our upcoming Town Halls.  Please be sure to register!  If you meet more than one of the below descriptions, you only need to attend one Town Hall – take your pick!  Please refer to the email sent on May 14 for town hall information.
THANK YOU
Thank you for trusting us with your camper for summer 2021.  In this ever-evolving landscape, we are focused on providing a safe, fun experience for everyone at Camps Airy & Louise!
Please note that the Baltimore Office is closed on Monday and Tuesday of next week for Shavuot.
Shabbat Shalom!
Jonathan Gerstl, Executive Director
Alicia Berlin, Director, Camp Louise
Marty Rochlin, Director, Camp Airy
Neil Berlin, Director of Operations
March 26, 2021
We are very excited to get back to Camps Airy & Louise for summer 2021!  While this summer will be unique, we are looking forward to a great summer for our campers and staff!  In order to be successful, there are hundreds of campers and staff relying on each one of us to be committed to camp's success.  Ensuring the healthiest start to summer 2021 will require a partnership between Camps Airy & Louise and our families, campers, and staff.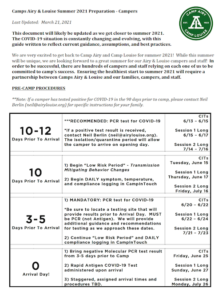 Please click here to download the summer 2021 COVID-19 procedures for Camps Airy & Louise.  You will find in this document:
– Pre-Camp Procedures
– Pre-Camp Testing
– At Camp Testing
– Mask Policy
– Other Important FAQs
It is important to note that these procedures are as of today.  It is very possible that these could change as we get closer to camp.  We will be sure to keep you updated with any modifications to this plan.
In May, we intend to have multiple town hall meetings to review these procedures as well as more information about summer 2021.
Please feel free to reach out with any questions as we all prepare for what will be a great and memorable summer!
Jonathan Gerstl, Executive Director
Alicia Berlin, Director, Camp Louise
Marty Rochlin, Director, Camp Airy
Neil Berlin, Director of Operations
December 4, 2020
To our amazing Camps Airy & Louise community –
Ever since the completion of our Off The Mountain programming during summer 2020, we have been 100% focused on getting back to Camp for summer 2021.   During this time, we are learning (and re-learning) constantly!  We have:
– Discussed with Directors who had both successful and unsuccessful in person camp during summer 2020.
– Spoken with Counselors who worked at camps that ran in 2020.
– Worked with our other AIJC (Association of Independent Jewish Camps), ACA (American Camp Association), and FJC (Foundation for Jewish Camp) members to discuss summer 2021.
– Been working very closely with the Maryland Department of Health as they prepare regulations for summer 2021.
– Started a Medical Advisory Committee (composed of two physicians, four nurses, and a virologist) to assist our team in preparing for this unique summer.
– Removed Short and Rookie Sessions from the available summer 2021 sessions.
As a result of these discussions, we have determined that – as you would guess – there is much unknown about summer 2021.
However, we are currently making plans for summer 2021 with the current knowledge and guidelines from the CDC, ACA and State of Maryland, assuming that COVID is still in the picture.  We have fielded many phone calls around summer 2021 planning and want to share a few common questions we have received with our greater community.  All of these answers are subject to modification as we approach summer 2021.
Will we need to quarantine prior to arrival at Camp?
– Pre-camp behavior changes may be required.  Some camps in 2020 had pre-camp changes required for two weeks; others for one week.  We will be working to better define the time period as we get closer to camp.  Changes may include not eating at a restaurant (outdoor or indoor), no unmasked or non-distanced interactions outside of your household, and more.
What testing will be required prior to Camp?
– We expect the options for testing to increase by summer 2021.  With the current knowledge, we would likely ask families to have their camper tested with a PCR test 72 hours prior to arrival and bring the negative test result to camp.  Additionally, we anticipate performing a rapid test upon arrival at camp (in your car) prior to the camper entering camp.
What will opening day look like?
– While we have not ironed out the details of opening day, parents would likely be given a time window of arrival – to assist in spreading out the arrival of campers.  Check in of your camper, including their rapid test, would likely occur at your car window.  After your camper has checked in and tested negative, the camper would come into camp with their counselors assisting in unpacking and setting up.  To limit the number of people and risk in camp, parents would not be allowed into camp.
How will we ensure counselors are safe to be in a bunk with our children?
– Counselors will arrive at camp two weeks prior to campers.  Counselors will be tested upon arrival at camp and again at least once prior to arrival of campers.
How will Camp operate in a "bubble" for each long session?
– Canceling short sessions allows us to reduce the ins and outs of campers during each session.  Note that camp will be in a "bubble" for staff as well.  Staff will have time off – however most will not leave camp during time off.  The very few who have the ability to leave camp will be our drivers – assisting camp by doing local pickups as needed.  These drivers will be masked and only have safe interactions during these brief moments out of the bubble.
What will we be doing to monitor campers and staff through camp?
– Each camper and staff member would have their temperature checked and logged daily as well as go through a symptom checking process.  The Health Center would follow up with anyone requiring additional review.  Additional COVID testing would likely take place during camp as well.
Does a vaccine change anything at this point?
– At this point, it is too early to say.  In planning for summer 2021, we are putting the necessary structure in place to help make our campers and staff as safe as possible.
Next summer – more than any other summer in the past – our campers need camp.  They need time with their friends, time outside, time away from home, and time away from screens.  Thank you for partnering with us to ensure a safe and successful summer for us at Camps Airy & Louise.
We recognize that this subset of frequently asked questions is just a starting point of what you may be asking.   While we continue to make preparations for camp, we anticipate emailing again with additional questions/answers mid-February.  And – if you have additional questions that you would like to discuss, please feel free to reply to this email and one of us will reach out.  We hope your family has a nice start to Hanukkah next week; look out for a newsletter on Tuesday with some activities from Camp!
Jonathan Gerstl, Executive Director, Camps Airy & Louise
Alicia Berlin, Director, Camp Louise
Marty Rochlin, Director, Camp Airy
Neil Berlin, Director of Operations, Camps Airy & Louise