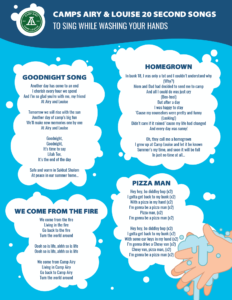 Download our 20 second hand washing song sheet to post on your mirror!
March 12, 2020
Camp Families – 

We are sure you have been following the news and see the impact of the COVID-19/Coronavirus in your own community and around the world.  This is an unusual time and we wanted to communicate briefly.
We are continuing to plan for camp – and would like for you to as well!
Above all, the well-being of our staff and campers is our number one priority.  We know a lot will change between now and the start of Camp. Camps Airy & Louise are closely following updates provided by Centers for Disease Control and Prevention, the Maryland Department of Health, as well as industry professionals with the American Camp Association.

Because camp happens in a close community, we have always taken great care to develop and maintain medical practices to address a variety of communicable diseases, both common and rare. While the coronavirus currently poses no immediate concern for Camps Airy & Louise, we are actively engaged in preparation for camp and the impact that coronavirus may have.  This entails looking at how campers and staff will be screened before coming to camp (e.g., recent travel, current health, and temperature and symptom checks); our basic hygiene procedures; building, bunk and bathroom sanitation; our plans to keep camp families informed; and what additional training and orientation we will provide our staff.  We are also confident that our past experience dealing with similar issues that affected our camp community over the years will serve us well as we prepare for any contingencies that may arise.

We will continue to keep you updated as new information becomes available and invite you to contact us if you have any additional questions.

Jonathan Gerstl, Executive Director
Alicia Berlin, Director, Camp Louise
Marty Rochlin, Director, Camp Airy
Neil Berlin, Director of Operations, Camps Airy & Louise
Dr. Steve Thompson, Director of Medicine