Louise Blog
Director's Blog – August 1, 2018
THE WORLD STANDS ON THREE THINGS:  ON TORAH, ON WORSHIP, ON DEEDS OF LOVING KINDNESS
-Pirke Avot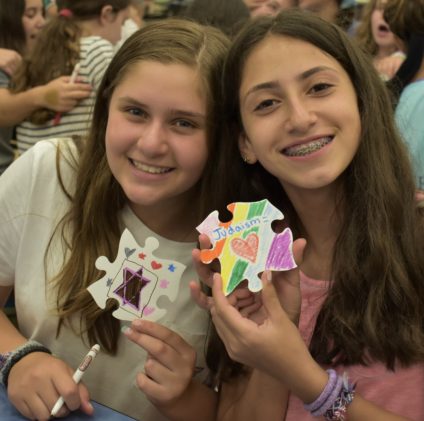 This quote was the base of this evening's second Cornerstone Program.  Cornerstone is a leadership conference run by the Federation of Jewish Camp where counselors and leadership staff from different Jewish camps all over North America meet together to discuss new, engaging, creative and thought provoking ways to bring Jewish activities to camp, and our Fellows did not disappoint!
This evening, campers took a new view of these three things (Torah, worship, deeds of loving kindness) by creating their own tzitzit (a wrap of different knots and ties that usually attach to a prayer shawl), asking thought provoking questions about strong, meaningful women in their lives, and coming together to create a final prayer (for WORSHIP).
For TORAH, campers learned (or refreshed their knowledge) of heroines in Jewish texts and created their own comic books of these women, writing their own stories featuring or inspired by the women in Torah.
As a deed of LOVING KINDNESS, campers played a game of kindness Bingo.  They reflected on how they had been kind in their bunk and around camp recently, and they were also given new ideas for ways to be kind.  This portion ended with a silly game where they got to literally throw compliments at each other around the group.
We finished with campers decorating their own puzzle piece in ways that represent Judaism to them. All of the different puzzle pieces connected to show us how each of our individual Jewish identities created the colorful tapestry of Judaism at Camp Louise.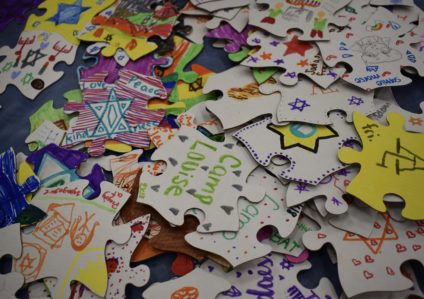 As I write these blogs, I am reminded on a daily basis what an honor it is to be a part of this truly amazing community.
Laila Tov,
Alicia
[bq_color]
Today's Birthdays

Happy UN-Birthday, Everyone!
[/bq_color]
Today's Menu
[table "" not found /]
Today's Weather

High: 84°F | Low: 72°F
Sun – rain – clouds – storm – clear – rain – clear…..