Louise Blog
Director's Blog – August 10, 2019
CLOSING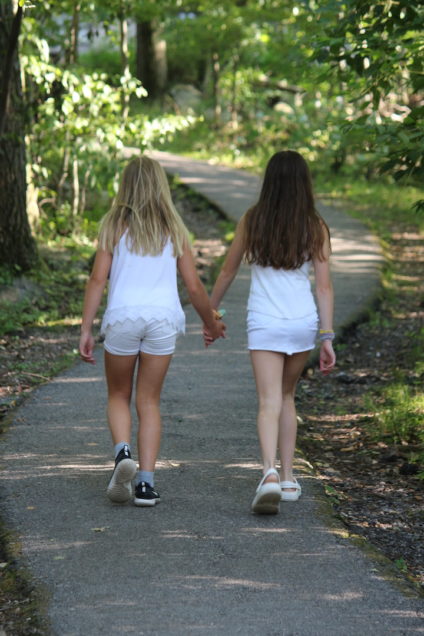 As I sit down to write this (my last blog of the summer of 2019), I think back over the past two months and so many memories come to mind. But one that stands out in particular is something that happens every Friday night during our Shabbat services. This summer, we have been lucky and the weather has allowed us to do every Friday night service (except for one) outside in our beautiful Bornstein Family Solarium.
During this Shabbat service, one of the CITs has the honor of singing:
As we hold this cup of wine, let us praise G-d, with this symbol of joy,
and thank G-d for life and strength, for home and love, and friendship.
And for Sabbath peace.
Picture this…when we get to the words and friendship, the whole camp joins in. It goes from one solitary voice singing to about 650+ and as you can imagine, it is quite powerful. I get to look around at all of the campers and staff during this time and see the smiles on their faces as they sing these two simple words. It is pretty remarkable.
During the summer, we have focused on 7 values for our Middah of the Week program – hospitality/ hachnasat orchim, kindness/chesed, curiosity/sakranut, patience/savlanut, courage/ometz lev, respect/kavod, and gratitude/hakarat hatov. Every single one of these middot I see in the over 600 faces of our incredible camp community as they proudly sing those two simple words – and friendship.
This is the thought, the words, the image that I conjure up when I think about camp. And as we all leave the safe bubble of 21719 and head back into the "real world" – I challenged everyone tonight to come up with their image that will keep them warm during the next 10 months until we are back home again at Camp Louise….
Until summer 2020,
Alicia
Tomorrow's Birthdays

Samantha – Bunk 12

Shania – Outdoors Counselor

Inga – Kitchen Staff
Today's Menu
Breakfast, Lunch, Dinner
Scrambled Eggs | Bagels | Veggie Sausage | Berries, Make Your Own Sandwiches | Chips | Hummus | Salad Bar | Pasta Bar, Happy Cab Night | Brisket | Salmon | Chicken | Rice Pilaf | Grilled Veggies | Rolls | Salad Bar | Pasta Bar
Today's Weather

High: 81°F | Low: 60°F – A truly beautiful last day of camp!