Louise Blog
Director's Blog – August 10, 2016
Today's Picture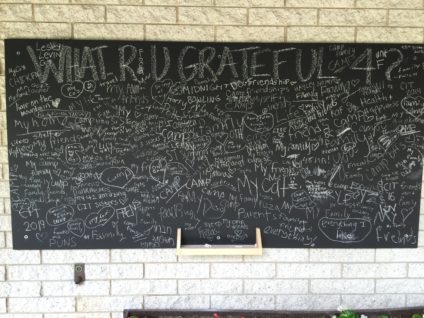 Earlier in the summer, we spent some time talking about gratitude.
Even though each week we focus on a different middah, we like to refer back to some we have already discussed. One that we keep coming back to is gratitude.
Last week, we hung a chalkboard up in front of the Dining Hall and different questions were written on it each day. Campers and staff can come up and simply write their responses on the board. This is our version of a screen free wall, and it has been extremely well received.
The first question we posted was: WHAT R U GRATEFUL 4?
We announced it at lunch one day and by the time we walked out of the Dining Hall, the wall was already filled (see picture). This has definitely become a hot conversation topic around camp. As you can see, there were lots of shout-outs to camp, friends, specific people, family, health, happiness, sisters, pets, their bunks, parents, camp family, and summer. Harry Potter even got a few, as well as time on the mountain and 2019 CITs!
Other questions that have been posted on the chalkboard throughout the week include:
What is your superpower?
What is your favorite place in camp?
What is your dream?
What is the best part of your day?
I love reading everyone's responses – inspirational, funny, serious, thoughtful. Definitely makes you think…
If you had a big chalkboard wall, what would your question be?
Alicia
[bq_color]
Today's Birthdays

Hannah – Staff
Jamie – Staff
[/bq_color]
Today's Menu
[table "" not found /]
Today's Weather

High: 88°F | Low: 72°F – A hot, sunny day!