Airy Blog
Director's Blog – August 10, 2017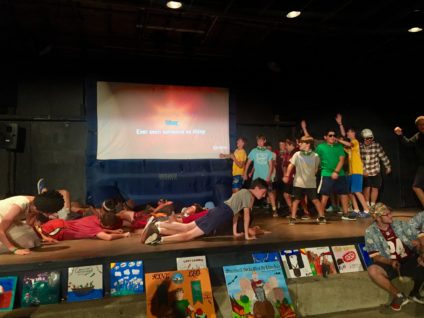 "Dance Party USA"
While a leopard can't change its spots, the Camp Airy Olympics certainly can. Take a look at the events we have going on these days for camper and staff All-Star games:
Archery, Baseball, Basketball, Cool Camping, Dodgeball, Fishing, Football, Frisbee, Hockey, Knockout, Lip Synch, Mosaic, Newcombe, Paintball, Parkour, President, Quickball, Ropes, Skateboarding, Soccer, Spades, Trivia, Volleyball, Wrestling
That's an awesome list. But it was just the appetizer to tonight's program – a new Airy gameshow called "K-Airy-oke Dance Off." The spectacle combined karaoke and dancing, by teams, in a duel style. One team's dancers danced while others sang karaoke. Words were displayed on a giant screen and music blared. When a gong was sounded, the other teams dancers and singers sprang into action.
Songs included in "K-Airy-oke Dance Off" were September, Can't Stop The Feeling, and Shut Up And Dance Withe Me. Our generals Shai and Leo surprised everyone at the end with a duet / dance off.
Campers and staff alike loved the gameshow. As we headed to bed tonight, only 300 hundred points separated the two teams – White in the lead. It will be an exciting Friday.
Marty
Today's Birthdays
Hayden
Jaden
Today's Menu
[table "" not found /]
Today's Airy Weather

High: 84°F | Low: 64°F
Olympic weather for sure