Louise Blog
Director's Blog – August 2, 2018
AND THE CROWD WENT WILD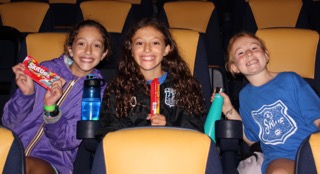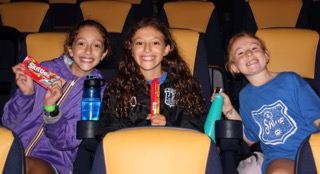 What do you do to surprise 600 people on an incredibly rainy, rainy day……tell them that you are taking the entire camp to the movies!!! The screams of joy in the Dining Hall were not to be believed!
Today, the weather held out for a regular morning of activities and then the rain began, but it didn't bother us because we were headed to the movies for the afternoon! All you could see was a sea of blue camper t-shirts headed into the theaters in Gettysburg.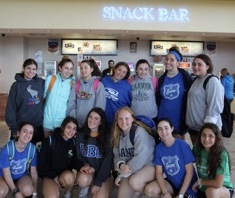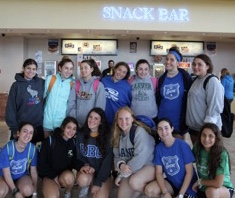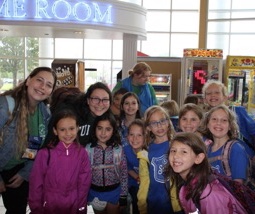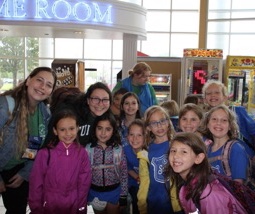 Junior Campers had the choice of seeing Hotel Transylvania 3, Incredibles 2, or Teen Titans. Senior Campers and Trainees could see any of those three or Jurassic World or Mamma Mia 2. We took over the movie theater. Can you guess what the tally was for each movie….
Jurassic World – 42
Teen Titans – 59
Incredibles 2 – 97
Hotel Transylvania – 130
And the winner of the day….the most number of tickets purchased was for:
Mamma Mia 2 – 272
We even brought our own canteen to the movie so everyone had a snack!  As we were leaving the movie theater, two campers were overheard saying:
"It was so cool going to the movies with my camp friends. I go all the time at home, but this was awesome!"
"My whole bunk chose to see Mamma Mia. It was fun to be at the movies during a rainy day with my camp friends!"
Back to camp for Unit Night after an unforgettable rainy day!
Alicia
[bq_color]
Today's Birthdays
Audrey – Bunk 28
Maya – Bunk 14
Izzy – Counselor
Eric – Security
Bryan – Security
[/bq_color]
Today's Menu
[table "" not found /]
Today's Weather

High: 78°F | Low: 72°F
Cloudy, then rainy, then very rainy, then clear, then cloudy, then rainy….