Airy Blog
Director's Blog – August 3, 2018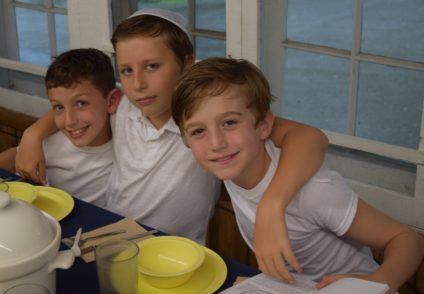 "Bim Bam"
Shabbat Shalom from Camp Airy, and the three Unit B campers pictured – Alec, Derek and Sammy! As this wast the first Shabbat for a new crop of Rookie campers, we explained many aspects of our Shabbat celebration. Let me do the same for you.
Weather permitting, we begin as a whole camp at the campfire site. The wooded setting becomes our Shabbat amphitheater as campers and staff fill in the semicircle of benches. Shabbat services had previously taken place in the dining hall, but the space in the woods lets us gather outside, with a picturesque backdrop and an inclusive community feel. Airy's Jewish life and religious services team lead services with the help of volunteer campers and staff. We light candles, and recite kiddush and hamotzi at the site. And just as Airy campers have done for decades, our service ends with a ruach-filled "Bim Bam."
As a whole camp, we walk to the dining hall. When we enter the dining hall, braided challah and homemade soup are waiting on the tablecloth-covered tables. Everyone sips from their personal cup of grape juice, and the family style dinner is underway. On this evening, the menu included baked chicken, roasted potatoes and string beans. Our time in the dining hall wrapped up with the whole camp singing the "Birkat Hamazon," a way to show thanks for all that we are able to share.
After some time to digest (and finish getting laundry ready for pick-up) we gather together back on Village Row for a song session. Shy and Michael lead our song and dance party with some favorite Airy songs in both English and Hebrew. For some songs, campers and staff are jumping and dancing. For others, we are singing and swaying together, arm in arm. As we do to end any campwide evening activity, we conclude with "The Goodnight Song," Shema, and "Taps."
We look forward to our Shabbat Saturday … there's a rumor that we will have a few days of SUN!
Marty
Today's Birthdays
None – Happy Un-Birthday to All!
Today's Menu
[table "" not found /]
Today's Airy Weather

High: 80°F | Low: 69°F
Back to the broken record forecast AGAIN – It was wet, it was dry, it was wet, it was dry …!