Airy Blog
Director's Blog – August 3, 2019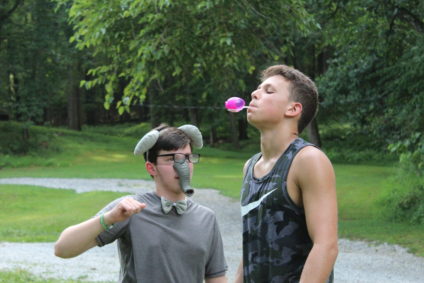 "A Person's a Person No Matter How Small"
Congrats and thanks to our 2019 Camp Airy CITs for planning and delivering a Seuss-Tastic CIT Day. Campers and staff were transported to Whoville and the Jungle of Nool where they had to match wits with characters who were up to no good, including The Cat in the Hat, The Grinch, Thing 1 and Thing 2, Sour Kangaroo, and The Wickersham Brothers. Every CIT played a character, and fellow trainees – STs and CAs – served as group guides through the adventure.
Pictured today is Horton. Horton is famous and beloved for his loyalty, as well as his catchphrase "A person's a person no matter now small." Horton would certainly be a Mensch on a Bench, especially with Respect as our middah from Week 6 and Friendship as our concluding middah for the summer. Now, there may not be much more room on the bench for others, but I digress. Besides having a blast at all of the stations being run by the CITs, I do believe there was some Seuss wisdom for us all to take way as CIT Day wrapped up before dinner:
Now I'm here, there's no telling what may ensue!
No there's no telling what!
But I'll give you a clue…
Oh, the thinks you can think!
Oh, the thinks you can think!
If you're willing to try…
After dinner, a lurking storm shortened our evening, so having a rest in bunks after such an active day was not such a bad thing. Campers had campteen delivered to bunks, campers were shuttled for evening health center visits, and the temperature had nicely dropped. All's well that ends well.
So long until the next blog,
Marty
Today's Birthdays

Happy Unbirthday to All!
    BLOG SPOTLIGHT – Unit B

Greetings from Unit B!!!
We've been keeping extremely busy this week and are having loads of fun here on the mountain! During the last few days, our campers have participated in many fun and engaging programs. This week we had unit activities ranging from tie-dye night to model rocket building. We also went on a trip and had a great time at Fountain Rock Nature Center, where our campers learned all about different critters that live in the local wilderness. Our Unit B campers concluded the trip by feeding snapping turtles, and touching an assortment of snakes, turtles and other critters. This coming week, we have some exciting things to look forward to! As a unit, we are going on one of our favorite trips, FORT RITCHIE!!! At Fort Ritchie, we will have an unbelievable time kayaking and canoeing on their gorgeous & historic lake. We can't wait for another great week!!
~TYyer, Unit Leader B
Today's Menu
Breakfast , Lunch , Dinner
Scrambled Eggs | Mini Bagels | Cereal | Fruit | Yogurt , Chicken Tenders | Tater Tots | Roasted Veggies | Salad Bar | Pasta Bar | Frozen Mompops , Lasagna – cheese and veggie | Rolls | Mozzarella Sticks | Salad Bar | Pasta Bar
Today's Weather

High: 90°F | Low: 70°F
Overcast then sunny then rainy then sunny then cloudy then some evening thunder.