Airy Blog
Director's Blog – August 4, 2015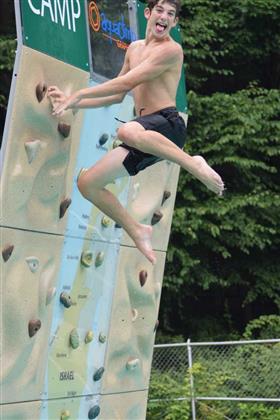 Where else but camp can you climb up an Aqua Climb and then pose as you dismount and make your splashy return into the water? As we get ready for the last five wake-up bells of 2015, we have no intention of slowing down. In fact, it's quite the opposite. We've got so much going on. Just this evening, I was a guest judge at a Culin-Airy cook off. I swapped and bartered with Unit C campers in "Penny Trade." Somehow, I gained and lost a double stroller, but I do have a big bottle of Gatorade. Thanks, Health Center!
If we blink this week at camp, we may miss a special moment. A Musical Happening. Olympics. The final Shabbat. Bunk Parties. Units C and F graduating from Junior and Senior Camp, respectively. Trainees taking one step closer to being staff members. Our 3rd year campers will earn their lanyards. Our 5th year lads will earn their backpacks. The 7th year fellas will receive their blankets. And the 9th year "old guys" will don their new jackets. For staff, this is the Leaf summer for our 3rd year members – we look forward to their induction.
I can honestly say that we will hold on to Summer 2015 for as long as we can. We've had a blast so far – super kids and a super staff have made it this way. Sure, we'll enjoy some of the comforts of home when we get there, but there's no denying that life is great in 21788.
Today's Birthdays
None
Today's Menu
[table "" not found /]
Today's Weather

High: 90°F | Low: 66°F

Another beautiful camp day!
Marty Rochlin
Director