Louise Blog
Director's Blog – August 4, 2017
BROADWAY COLOR GAMES – ACT 2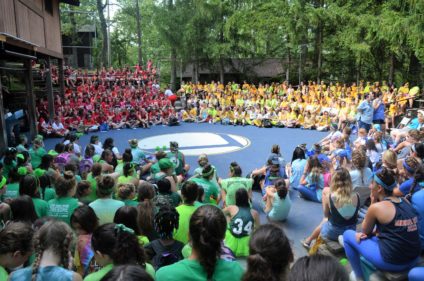 What an incredible day filled with lots of fun activities and Broadway music!
We came into Triple Threat Breakfast where everyone had to sing, dance and act their way through breakfast. Talk about drama!
Campers then went back to clean for inspection and:
"We wanna see this camp shine like the top of the Chrysler Building!"
Annie
After Rehearsals (AKA Team Meetings), we headed to morning activities.  Some of the awesome theme-based activities on the fields included:
Don't Melt Your Counselor (Wicked) – This relay involved campers dipping sponges into buckets of water, running a certain distance and then squeezing the water into a cup – which, by the way, was on top of a counselor laying on the ground. Be careful. You don't want to get Elphaba too wet or she will melt!
Costume Run (Hairspray) – Remember when Edna goes to Mr. Pinky's Hefty Hideaway and tries on lots of outfits after Tracy is offered an endorsement? In this relay, campers had to get dressed up in a costume and then run through an obstacle course, take off the costume, and have the next camper put it on and go through the course.
Laundry Hunt (Annie) – Just as Annie escapes from Ms. Hannigan by hiding in a laundry basket, blindfolded campers had to dig through the basket to find a Tony award filled with blankets.
4-Legged Race (Hamilton) – Just like the Schuyler Sisters were an inseparable trio, the campers lined up in threes. When the counselors said, "Lights, camera, action!" – the group must work together to cross the finish line.
And we can't forget the awesome pool activities – including the Corny Collins Aquatic Bandstand, Pin the Bow on the Bouffant, Shantytown Penny Pick-Up, and Wicked Witches' Broomstick Relay. Two of the most fun and creative pool activities were Hamilton themed. In Hamilton's Voyage, campers worked in teams to build a raft out of noodles. One camper then had to get across the pool on the raft while waving an American flag. At Hamilton's Hair Studio, teams sculpted and styled their hair using water and other available items (clips, ribbons, mop heads, etc) in the spirit of our founding fathers.  There were photos of George Washington, Thomas Jefferson, James Madison, John Adams and Alexander Hamilton hanging in the salon. Points were awarded for originality of style and actual authenticity. It was a riot!
After a full morning, we had a Vocal Rest (AKA Silent Lunch) – so fun and quiet….for staff! This was followed by campwide Bucket Brigade, Final Rehearsals (meetings), and Counselor Hunt. Lastly, we gathered in Solarium for Curtain Call (Closing Ceremonies) where teams shared their skits, songs, and banners – my favorite part of the day!
"The winner takes it all!"
Mamma Mia
Drumroll please…..Go, Wicked – GREEN Team!
Alicia
PS – Be on the lookout in tomorrow's blog for this week's Shabbat candle lighters.
[bq_color]
Today's Birthdays

Samara – Bunk 24
Josie – ST
[/bq_color]
Today's Menu
[table "" not found /]
Today's Weather

High: 83°F | Low: 60°F – "Nobody, no, nobody – is gonna rain on my parade!"