Airy Blog
Director's Blog – August 5, 2018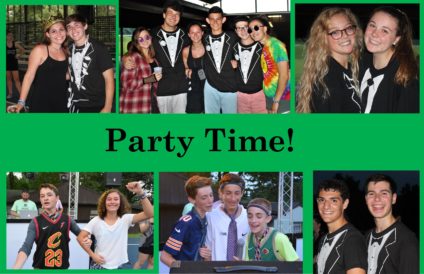 "Dance the Night Away"
I think we can all agree that two events a young person might look forward as a teen are Bar/Bat Mitzvahs and Prom. On Sunday night at Airy, we hosted both.
The Unit F girls from Camp Louise joined their Airy counterparts for a B'Nai Mitzvah party. DJ Josh and the crew from Electra Entertainment helped campers and staff relive their special days – for campers, just a year ago, while for staff it was a little bit longer. There was karaoke, line dancing, a hora and even a candle lighting. Unit Leaders Zach and Cassidy did the readings, calling up bunks – here's an excerpt from Zach:
"B'Nai Mitzvahs are times for reflection. All of you guys have really helped us over our last 14 years. I'd like to take a moment to recognize certain groups of people who have helped lead me to this stage of our lives. When I was younger, I didn't know how to ice skate. I kept trying and failing, but eventually, Louise bunk 6 helped guide me and teach me how to skate. So I would love for them to come up here and help me light the first candle. "
Downhill in the gym, the CITs had prom. Because clothes make the man (or so I've read), the CITs went fancy for the occasion with tuxedo … shirts. Campers wore black shirts while staff donned red. CIT counselor Max, aka DJ Malps, was the night's DJ as the Louise and Airy CITs enjoyed their last social gathering for the summer.
It's hard work to pull off two dances in one night. Beyond the deejays, special thanks go to Airy staff members Rachael, Jeremy, Jordan and Alexis for loads of hustle up and down the hill. Food and drink and tables and extension cords don't move themselves.
And more special thanks to Camp Louise – our big sister hosted Airy Units D & E for a social / pool party / mixer.
Looking forward to a sunny Monday,
Marty
Today's Birthdays
None – Happy Un-Birthday to All!
Today's Menu
[table "" not found /]
Today's Airy Weather

High: 90°F | Low: 70°F
Warm and Sunny – and we aren't complaining!