Airy Blog
Director's Blog – August 6, 2019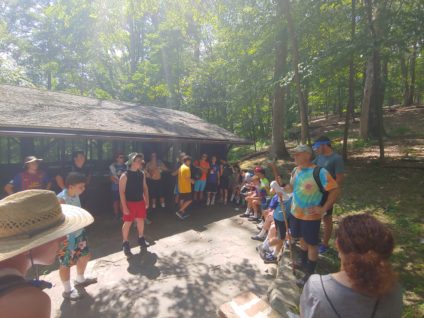 "Don't Know Much About History"
A semi-famous camp slogan from the past was "This Ain't School." And while we are proudly not school here at Airy, there is always something to be learned. Today was no exception, as our CITs embarked on the annual "Hist-Airy Hike." Of course it's "Hist-Airy" and not just "History," because everything is better with a pun … "Campteen," "CulinAiry," and "Fun FactAiry" are favorites.
The CITs set off on the hike led by Dr. Dave. The hike is special because it combines a bunch of different historical Airy pieces. For decades, Airy hikes were led by Mike Loucas and Marv Rosenstein. The hike makes stops at places where Mike and Marv used to lead bunk hikes. The hike stops by some historic camp structures – the Director's cabin, the Pargman Pavilion, the old downhill bunks and the original pool, and the Camp archives.
Even some not-obviously-historic places around camp have a cool story. Not many current campers – save for a few CITs – know that the youngest campers in camp started their careers in Bunk 31. It used to be a badge of honor for a camper to say he matriculated from "31-to-1." Village Row used to be called Bunk Row. The road was a loop. The basketball court was severely slanted.
Other back-in-the-day fun facts include …The archives used to the the library, and every day from the campwide intercom system campers would await "the library is now open." There used to be diving boards at the camp pool. We played softball, not baseball. There were seven camp units, and there were no STs. CITs and CAs were Unit T, and leading up were Units A-E and sometimes F. Mike Tallman was a counselor – ask him about Summer 1991. Jim Smith was a Unit Leader. There were soda machines, and we sold snowballs at campteen every day – after lunch AND at evening campteen time.
As camp approaches its centennial in 1922, our history will be celebrated more and more. The CITs who hiked today will usher in the new stories and wax nostalgic for their colleagues and campers. I look forward to writing about the next chapters.
So long until the next blog,
Marty
    BLOG SPOTLIGHT – Camp Airy Units C and F

We recognize our campers on Units C and F who enjoyed their graduation activities today. Graduation, as in Unit C completing junior camp, and Unit F completing senior camp. Both units will have celebrations in camp on Saturday night, but today was trip day. Unit F hiked to the Lake and Falls at Catoctin Mountain Park. Fifty Louise Unit F campers and staff joined Airy on the hike, and they all enjoyed a great day on the grounds. Unit C headed to the Frederick Keys game and enjoyed dinner and hanging out … until it rained and the game was postponed. Oh well, sometimes the best roadtrips are shortened, but a fun nonetheless. We look forward to their camp careers continuing in Summer 2020 and beyond.
Live long and prosper,
Doug, Junior Camp Division Head
Adam, Senior Camp Division Head
Today's Birthdays

Happy Un-Birthday to All!
Today's Menu
Breakfast , Lunch , Dinner
Scrambled Eggs | Waffles | Cereal | Fruit | Yogurt , Nachos | Veggie Chili | Cheese | Rice | Beans | Salad Bar | Pasta Bar | Churros , Spaghetti and Meatballs | Garlic Breadsticks | Sautéed Vegetables | Salad Bar
Today's Weather

High: 89°F | Low: 70°F
A spectacular sunny day in 21788 – until we got a quick and big thunderstorm at sunset.