Airy Blog
Director's Blog – August 7, 2019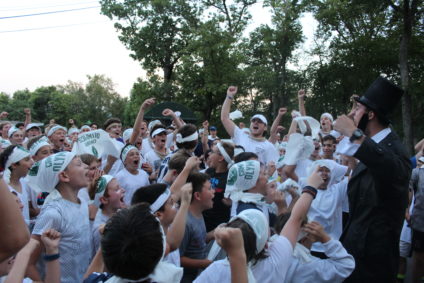 "Double Vision"
For the second time in as many summers, Camp Airy finds itself divided into Green and White Teams led by Generals with the same name. Last year it was Ben … this year it is Julian. On Wednesday night, camp gathered at the Cohen Theater for the traditional opening ceremonies and first night of competition.
As teams settled into their seats, it was my honor and privilege to read the Airy Olympic Charter:
Let it be known to all that upon the close of each full session at Camp Airy, the entire camp will come together to participate in an event that is designed to embody the Spirit of Camp Airy.
In the weeks before these events, there will be an official meeting of the Airy Olympic Committee. Upon meeting, the AOC will select two staff members who embody the positive qualities that are represented by the Airy Olympic Rings: sportsmanship, leadership, work ethic, compassion, and honesty.
These two staff members will be assigned the responsibility of temporarily dividing the campers and staff into two teams. The two teams will be given a designated color of either GREEN or WHITE and the counselors chosen will assume the title of GENERAL.
From amongst their respective teams, the GENERAL will choose counselors who also share the same qualities that the GENERAL was chosen by, and those counselors will assume the title of LIEUTENANT.
For the events that will ensue, the GENERALS, with their LIEUTENANTS, will lead the campers and staff through events that are designed to challenge and inspire each individual to reach for personal excellence while striving to promote their team toward victory. In the atmosphere of friendly competition, camaraderie, and fair play, the teams will reach for higher goals, push their expectations farther and contribute toward the spirit of Camp Airy. Be it known that the collective events herein described will be named the CAMP AIRY OLYMPICS and will foster all of the goals of the AOC.
Upon the close of the OLYMPICS, the scores will be tallied and the trophies will be awarded. The campers, staff, lieutenants, and generals will then dissolve their two teams and bring everyone back together to once more become one camp.
Let the games begin!
So long until the next blog,
Marty
Today's Birthdays

Levi – staff
Oliver
Today's Menu
Breakfast , Lunch , Dinner
Egg McAiry | Cereal | Fruit | Yogurt , Chicken Tenders | Chips | Salad Bar | Pasta Bar | Lemon Ice , Pizza | Caesar Salad | Pasta Bar | Salad Bar
Today's Weather

High: 82°F | Low: 69°F
Overcast and pleasant – a storm passed us to the north in the afternoon and we did hear some thunder, but no biggie.