Airy Blog
Director's Blog – August 8, 2019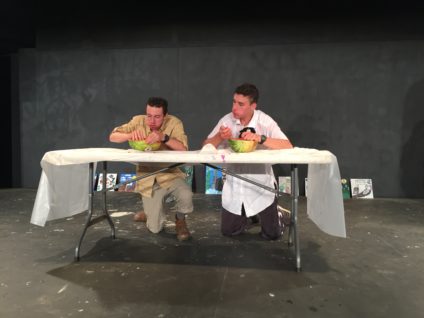 "Hey now, you're an all-star,
Get your game on, go play"
The Camp Airy Olympics is NOT just about sports. For the nearly two days of Green vs. White competition, events include:
General vs. General Watermelon Eating
A camper sticking Post-it notes on a staff member's head
Painting tiles for a team collage
Trivia
Parkour
Spades
CulinAiry
Synchronized Dance
Zipline
Bunk Inspection
Skits
Team Songs and Cheers
Team Improv
Outdoor Challenge
For sure, we have swim and track & field and soccer and frisbee and volleyball and basketball and tug o' war and more. We pride ourselves that the Camp Airy Olympics has something for everyone. We purposely build up to the Olympics that conclude our four and three-week sessions. What is unique about this session's Olympics is that it ends on Friday, giving us a day to come back together as one camp for a final Shabbat and sone special end-of-summer activities on Saturday.
As we wrapped up competition tonight, the point differential was about 300 points, which means the Olympics is up for grabs with SO MANY points available on Friday. Generals Julian have been model leaders, playing hard and having fun. Their lieutenants have been hustling all over camp, and the teams are all in.
Our next event is Friday Breakfast Bingo … get you dabbers ready!
So long until the next blog,
Marty
Today's Birthdays

Noam V. – staff
Today's Menu
Breakfast , Lunch , Dinner
Tortillas | Scrambled Eggs | Cheese | Peppers & Onions | Cereal | Fruit | Yogurt , Baked Potato Bar and Toppings | Mac N Cheese | Salad Bar | Pasta Bar | Ice Cream Sandwiches , Pasta Night | Marinara and Alfredo Sauce | Garlic Bread | Prima Vera Veggies | Salad Bar
Today's Weather

High: 88°F | Low: 69°F
A gorgeous day.