Uncategorized
Director's Blog – August 9, 2019
GRATITUDE
"There are always flowers for those who want to see them."
Henri Matisse
Gratitude turns what we have into enough.
Aesop
Piglet noticed that even though he had a very small heart,
it could hold a rather large amount of gratitude.
A.A. Milne, Winnie the Pooh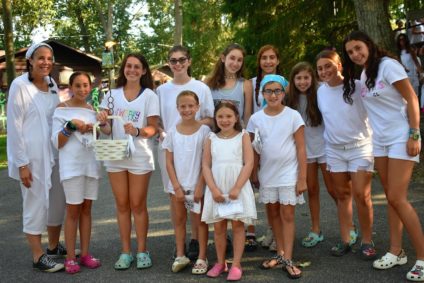 During this last week of Shabbat at camp, we recognize the following campers who have demonstrated the middah of gratitude/hakarat hatov:
This Unit A camper says thank you for everything anyone does for her. She uses good manners and encourages her friends to be grateful for what they have. She even made her counselor a thank you card.
This other Unit A camper is an exceptional girl who is grateful for all camp has to offer. She is always saying thank you and reminds her bunk to be thankful at camp.
This Unit B camper has been helping with farm chores this week. She has not only been patient and kind, but she thanks Annie (our Department Head of Farming) when she leaves even though Annie should be thanking this incredible camper! Annie is always so grateful for this camper's help, her time and her gratitude. This camper also always says thank you to her Unit Leader when she comes to say goodnight to the bunk!
These 2 Unit C campers are always happy with what they are given and the activities that they are involved in. They never complain!
This Unit D camper is always thankful for what she has. She says please and thank you all the time to everyone, including the Dining Hall staff. She is also very thankful for the outdoors. She always tries to show appreciation towards the bug in our bunk and calmly takes them outside.
This Unit E camper is always displaying a positive attitude and she is never seen without a smile on her face. She is grateful to those around her and she takes advantage of the opportunities and activities around her too!
This Unit F camper has shown so much gratitude this summer. She is always thankful after bunk and unit activities and is constantly smiling around camp.
This ST is always showing gratitude and recognizing the good in others. She makes a point of saying how nice and pretty other people's work is in copper enameling – even if she doesn't hear it back. Lauren goes out of her way to say thank you. She even took the time to write a personal letter of gratitude and thanks for how she feels about copper enameling.
This CA always has such a great attitude and is always showing how grateful she is for everything at camp. She is so passionate about camp and is truly a role model.
This CIT loves to be at camp. She shows her gratitude to the CIT community, as well as to the whole camp. She takes time to support others who need her. She is always continuing to build connections by demonstrating leadership. Last session, she created a bonding activity not only for the CITs but for the CAs as well. She takes advantage of the time she has at camp and makes the most of every single day!
Shabbat Shalom!
Alicia
Today's Birthdays

Katie – Drama, Unit D Counselor

Marcie – Camper Support
Today's Menu
Breakfast, Lunch, Dinner
Cheese & Veggie Omelets | Hash Brown Patties | Veggie Sausage | Melon, Stuffed Shells | Garlic Cheese Bread | Italian Veggies | Salad Bar | Pasta Bar, Shabbat Dinner | Grape Juice | Challah | Noodle Soup | Chicken | Brisket | Latkes | Roasted Veggies | Salad Bar | Pasta Bar
Today's Weather

High: 85°F | Low: 61°F – A truly gorgeous day at camp!