Airy Blog
Director's Blog – July 1, 2016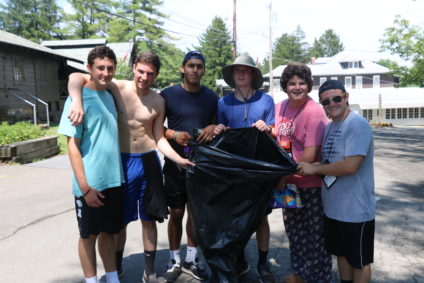 Friday marked the end of the first full week in camp for a special group of campers – the 2016 Camp Airy CITs. The CITs (counselors in training, just having completed their 11th grade school year) spend a full summer at camp in a dual role – not only they are campers, but this group also participates in Airy job training and leadership development. Our hope is that many choose to be on staff one day at Camp Airy, and that all will learn something that will bolster their chances at success at any and all future endeavors.
The training program covers three summers – following both 9th and 10th grades as well. The trainees as a group give great energy to any event going on at camp – a dance, a song session, even just walking the hill to and from activities. They are the big men on campus, and it's pretty cool to see younger campers look up to them. These trainees work with campers in bunks, at activities, in big/little bother settings, and more.
Pictured in the blog is a group of trainees and their counselors participating in an afternoon of service projects around camp. Mixed groups of trainees began their work on a campwide cleanup, recycling stations, painting murals, trail repair, and other projects. It makes a powerful statement when a group of over 100 boys works as a team and gives back to camp. Teamwork is one of the weekly "middot" (values) that we promote and strive to achieve around camp. Staff and campers alike rely on teamwork in taking care of campers and coworkers, problem solving, and in activities all over camp. We will be recognizing campers and staff who exemplified teamwork throughout the week at Saturday Shabbat services.
Marty
Today's Birthdays
Andrew S.
Amir – staff
Charles – staff
Jordan – staff
Today's Menu
[table "" not found /]
Today's Weather

High: 82°F | Low: 63°F