Louise Blog
Director's Blog – July 1, 2016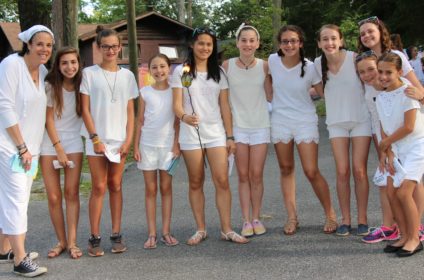 Middah of the Week – Chesed/Kindness
At camp, we do lots of great activities – outdoors, athletics, nature, arts and crafts, music, and so much more! Something we do equally as good if not even better than activities is teaching values……enter Middah of the Week.
In our screen-free environment, our campers and staff communicate with each other every day. We talk to each other, learn independence, and practice values. Each week, we focus on a different middah/value. This week was chesed – kindness. Each day, there were messages in The Daily (our daily newspaper with all the latest and greatest about the goings-on of camp) talking about the middah – how we can demonstrate it, quotes about the value, and discussion points.
My favorite message in this week's Daily was:  Deep chesed/kindness is when you extend yourself for someone who isn't yet your friend.
Campers and staff are nominated to light candles with me during our Shabbat services on Friday night because they have demonstrated the Middah of the Week. This week, ten campers (see picture) were chosen to light the candles. This is one of my favorite times of the week – seeing the campers' faces as their names are called and they proudly join me to light our Shabbat candles.
The ten campers who lit candles with me tonight were nominated because they:
Share an umbrella with a friend
Welcome new campers
See the best in every situation
Go out of their way to make sure everyone is included
Tell the other bunks "good game" when her bunk won at Unit Night
Constantly help out bunkmates and counselors
Always have a positive attitude
Help others clean up
Always offer support to others
Are all around kind and loving people
Help picked up some plates when they fell in the Dining Hall
Are always ready to help friends
Always volunteer to help out
As we celebrate our first Shabbat of summer 2016, what a great time to think about how we all can demonstrate a little more kindness each and every day……
Shabbat Shalom!
Alicia
[bq_color]
Today's Birthdays

Jenna – Bunk 7
[/bq_color]
Today's Menu
[table "" not found /]
Today's Weather

High: 87°F | Low: 64°F
It was mosty sunny.  The skies got a little dark but only for a very short time and even though the forecast predicted rain, it stayed dry all day!  Our first Shabbat was outside in Solarium – perfect!!!