Airy Blog
Director's Blog – July 1, 2017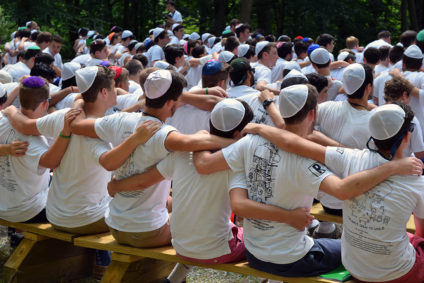 "Mensches on Benches"
Shabbat Shalom! Today was a special Shabbat at Airy for a few reasons. It was our first Shabbat with campers in the summer or 2017. We also gathered as a whole camp for the first time at the refurbished campfire site. Our community also celebrated the first recipients of "Mensch on a Bench" recognition.
During orientation week, our staff gathered at the campfire site and many people remarked what a beautiful location it was. At that point we made the decision to move our weekly religious services for the whole camp to the site (weather permitting).
Our religious services team, comprised of Shy, Rachael, Jacob and Micah, organized a meaningful service built around the middah of "teamwork." CITs performed a skit about the parsha in which they compared a hike to Thurmont Vista to the Israelites' trek after being freed from Egypt. Micah gave the camp reflection, intriguing us with tales of teamwork from leaf cutter ants, and inspiring us to be better camp citizens who pick up trash whenever we see it.
We then recognized the week's "mensch on the bench" award winners. What an honor to be nominated by fellow campers and/or staff for being an example of teamwork! The recipients were campers Ethan, Julian, Lucas and Adam, and staff members Kieran, Jose and Felipe. I look forward to sharing the good news with families soon. The services team informed all that middah for this coming week is "leadership." And as a sweet final piece of the morning, the Airy STs hosted camp for an oneg – cookies and juice for everyone!
Our Shabbat observance and celebration ended later in the evening with Havdalah. Our Airy Cornerstone fellows led the song-filled service before wrapping up with the "Goodnight Song."
"Day is done, gone the sun, from the lakes from the hills from the sky,
All is well, safely rest, G-d is nigh."
Marty
Today's Birthdays
Andrew S.
Today's Menu
[table "" not found /]
Today's Weather

High: 89°F | Low: 69°F
Hot, with an afternoon shower, and then a lovely evening