Louise Blog
Director's Blog – July 1, 2017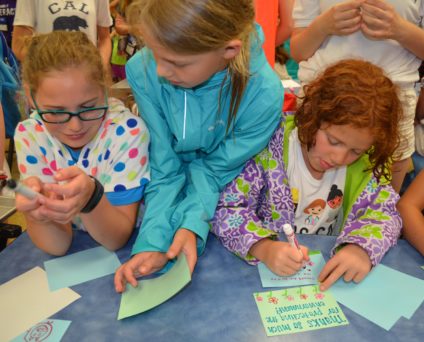 LOUISE LENDS A HAND
Louise Lends a Hand has become a tradition that many of our campers look forward to each summer at camp. We are so fortunate to have Rabbi Elissa here with us. As a camp alumna (go, 1987 CITs!) and a rabbi at Baltimore Hebrew Congregation, she spends four weeks with us each summer – two during the first month and two during the last.
In speaking with Rabbi Elissa about this incredible program that she created eight-ish years ago, we talked about her inspiration for Louise Lends a Hand.
For the hundreds of children who spend time with us at camp throughout the summer, many of them have so many blessings in their home lives. They come to us with strong families, with very few material wants or needs. Others have challenges and struggles that may not be apparent to others. As I reflected in my first blog of the summer, we do not know everyone's stories.
For all of our campers, the opportunity to do something for someone else brings a sense of joy and meaning that can ground their experience at camp and provide a foundation for a purposeful life.
Making casseroles for the hot lunch program at Paul's Place Community Outreach Center in one of Baltimore's most impoverished neighborhoods and sack lunches for the New Hope Shelter here in Waynesboro, PA we are providing families with a little bit of relief from their daily struggles.
This year we added a new component to our Louise Lends a Hand program because animals elicit such a compassionate response from so many of our children. Another camp alumna Toby, who is a National Program Manager for Travel, Tourism and Interpretation for the US Forest Service (go, 1991 CITs!) spoke to us about protecting wildlife and endangered species. Our campers wrote notes of encouragement to rangers with the World Wildlife Federation to thank them for their work.
As important as this day of service is, our real goal is to instill in our campers the desire to take what they have learned, find what they are passionate about and make a difference in the world.
As our founder Lillie Straus said: "Wherever you go, live the good you have learned here."
Alicia
[bq_color]
Today's Birthdays

Jenna – ST
[/bq_color]
Today's Menu
[table "" not found /]
Today's Weather

High: 84°F | Low: 80°F – A sunny day with a very quick passing storm that didn't stop us from an afternoon full of fun!