Airy Blog
Director's Blog – July 1, 2019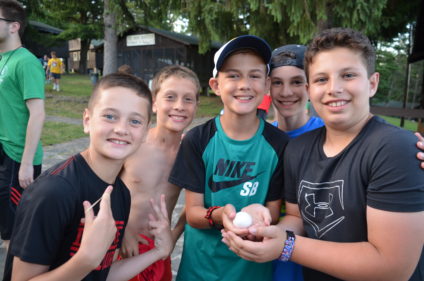 "I am the Egg Man"
On a daily basis, so many egg-cellent things happen around Camp Airy. Truly egg-straordinary activities and opportunities are available day and night, uphill and down. Today, Camp Airy hosted one of our local partners, Camp TRS from Temple Rodef Shalom in Northern Virginia. I'm not sure what the campers and staff were egg-specting, but they were doubled over laughing while we played "Simon Says" and Racoon Circles. Later, we were so egg-cited to show off our egg-ceptional activities like Parkour, MegaZip, SkatePark and Go-Karts.
Following a "Thanksgiving" dinner where we were all egg-splaining which kind of cranberry sauce we preferred (jellied or whole-berried), Airy's Unit D competed in an Egg Drop Egg-zibition. Groups tried to outsmart one another and build a contraption to protect an egg being dropped from an egg-sorbitant height. The activity was so much fun and egg-zactly the perfect ending for what was an egg-zhilarating day in the Catoctin Mountains.
We had one egg-stra visiting group to camp today. From Baltimore we welcomed members of the Baltimore – Ashkelon – Odessa Partnership team. We met with the campers from Ashkelon and Odessa, and heard lots about the boys' egg-speriences at Airy. They shared egg-zamples of their favorite camp foods (pizza – surprised?) and we learned that the boys have egg-splored activities like boxing, basketball and Big Idea (STEM).
As the Baltimore and Camp TRS guests all egg-sitted at the end of the day, it was egg-ceedingly clear that Camp Airy is a special place.
So long until the next blog,
Marty
Today's Birthdays

Happy Un-birthday to all!
    UNIT SPOTLIGHT – STs    

Shower time? Stranger Things? Senior Trainee? We're not really sure what ST stands for, but one thing we do know is that ST summer has taken a turn to the "Upside Down". This year's theme is Stranger Things (get it, ST), and each bunk is rocking a different strange theme. But we're not only up to strange things this summer. The STs have taken the mountain as they build their leadership skills and show their spirit. STs are excited about their special events later in the session and we continue to show great ruach in all the events we attend. At the dance, the STs came out in full force rocking either green or white as they hosted their first annual STranger Olympics at the dance. Former General and current CA Unit Leader Stephen Tonelson (get it, S.T.), was heard saying "Olympics, gotta love 'em." We're excited for the summer ahead and can't wait to see what other stranger things are upon us.
Dan, ST Unit Leader
Today's Menu
Breakfast , Lunch , Dinner
Scrambled Eggs | French Toast | Cereal | Fruit | Yogurt , Meatball Subs | French Fries | Salad Bar | Pasta Bar | Brownies , Turkey | Stuffing | Mashed Potatoes | Green Beans | Rolls | Gravy | Salad Bar | Pasta Bar

Today's Weather

High: 84°F | Low: 63°F
Yet another beautiful day at camp.