Airy Blog
Director's Blog – July 10, 2017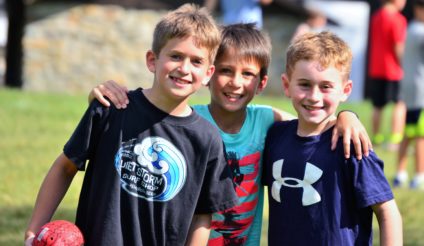 "Boys of Summer"
Can you picture in your mind these same three campers in 2026, in the same pose but now wearing t-shirts for their college selections? Or maybe in 2036, in tuxedos at one of their weddings? On in 2046, on a multi-family vacation? Such is the power of a Camp Airy friendship.
One of the best parts of my job is listening to people's camp stories. Sure, it's fun to wax nostalgic about the old Bunk Row, or where Campteen used to be, and for some guys, their recollections of the old downhill bunks or being a camper in the time of the old pool. They give precision details and their eyes light up.
Yet when the stories switch gears from places and things to people, you start to feel something. We all have favorite camp stories, and the shared experience with camp friends mark them indelible. I could probably write a stream of consciousness blog every day that would go something like this:
Strat-o-matic Baseball with Paul "Flounder" Halpern and Ross Charkatz; being a camper in Bunk 21 with Tim "Smitty" Smith; participating in a Shabbat choir led by Andy Bursten; winning a spades tournament with my partner Ryan Hotchkiss; working as a unit leader with Aaron Cohen and Adam Clay as my co-pilots; playing rainy day football as a CIT against counselor Mike Tallman and his CAs; sitting on porches and talking late into the night with my wife Pam, Ryan "Vern" Karten and Ryan Perlin; running a soccer clinic with Chris Parkinson from the UK; delivering an Airy Auction prize of Chicken McNuggets and Slam Dunks, sleeping in the gym, and morning donuts with Andy Riffkin. Some camp friends become family, like when my cousin Ayme marries my friend Andrew. Their daughter and our daughter are bunkmates at Camp Louise.
(I'd be remiss in I didn't mention Alicia, whose basement I lived in when I first became a teacher. She was my housemate / landlord when I got engaged to Pam.)
My camp friends have become wedding groomsmen, professional colleagues, and rivals in our fantasy football league (one of my job perks is hosting our annual fantasy football draft up a camp – just the fellas for bad basketball, a cook out, spades, Rocky's, minimal sleep, and then random guessing / drafting). It is an honor to have camp friends send their own children to camp – to Airy and Louise. Some of the friendships date back to 1984 – when I was a 10-year old camper just like the boys in the blog picture.
At Airy, we will gladly do our part to foster these relationships.
Marty
Today's Birthdays
Noah and Luis – staff
Evan, Adam, Jack – campers
Today's Menu
[table "" not found /]
Today's Weather

High: 89°F | Low: 69°F
Another beautiful day at Camp Airy.