Airy Blog
Director's Blog – July 12, 2017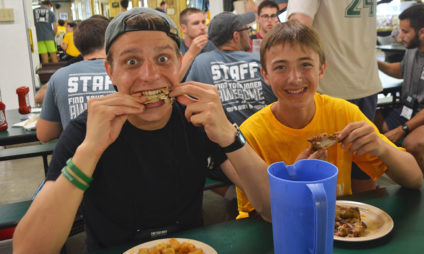 "I Feel Like Chicken Tonight"
Did you know that there is a National Chicken Council? I didn't either, but there is. If you visit their webpage, you can click on the "2017 Wing Report." I was shocked and amazed to learn the following:
"Americans to Eat 1.33 Billion Chicken Wings for Super Bowl"
To put that staggering number in perspective, consider this: "1.33 billion wings is enough to circle the Earth almost three times."
Say what?
Now that we've established the popularity of wings, it's easy to understand how our Airy boys have been clamoring for Wing Nite. From a menu planning perspective, there is a logistical challenge in making the right number of hot and fresh wings, plus the side items, for 550 people. And our boys have big appetites. At the end of our Airy Fantasy Football season, we invite participants and their families for a wing nite at a local establishment. The most frequently heard question (besides "Can I touch the trophy?") is "When is Wing Nite at camp?"
The customer is always right. So we got creative in our planning.
We scheduled Wing Nite in shifts – Tuesday night was Wing Nite for Airy's Junior and Senior Divisions. With the Trainee Division (our biggest eaters) out of camp on their overnights, the Airy Dining Services Team took great care of us. Wings and tater tots, multiple wing flavors available at a sauce station, and bountiful amounts of carrots, celery and (parve) ranch dressing. Even with the CITs, CAs and STs out of the building, the decibel level in the dining hall was high. Happy eaters all around.
Don't worry about the Trainees. Their Wing Nite is already scheduled. They will have their Wing Nite as part of an evening program in the coming days.
Extra Credit Question – how many walks up and down the Airy hill would it take to lay out those 1.33 billion wings?
Marty
Today's Birthdays
none
Today's Menu
[table "" not found /]
Today's Weather

High: 89°F | Low: 70°F
Warm and muggy