Airy Blog, Louise Blog
Directors' Blog – July 12, 2018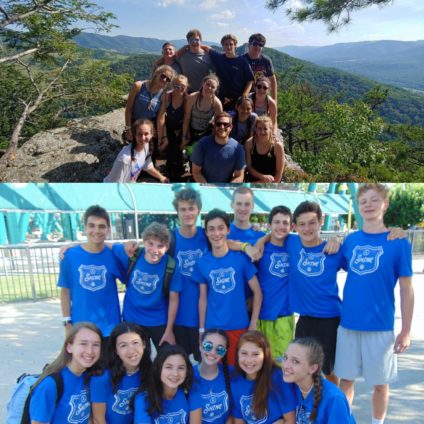 ON LOCATION WITH THE TRAINEE OVERNIGHTS
Airy & Louise Trainees participated in their long-awaited overnights this week. We are going to hear from people on each trip as they give us a little sneak peak into their experience.
ST OVERNIGHT
The STs had an amazing time hanging out in Sandusky, Ohio over the past two days. After a fun night of slides and swimming in the hotel's indoor water park, we headed to Cedar Point Amusement Park for the main attraction of our overnight trip. It was a beautiful day to be walking around and taking advantage of the assortment of rides and rollercoasters.
"It was an awesome bonding experience since we were all together for two days straight," said Louise ST Jessica W.
Louise STs Jordyn D. and Lily C. also agreed that the experience helped them overcome their initial fears about some of the rides in the park. "Our friends encouraged us to try rides that seemed intimidating, but we ended up loving them," the girls said.
Airy ST Manny succinctly said "The trip to Cedar was on Point."
Overall, it was a fantastic two days and a true highlight of the session!
CA OVERNIGHT
Tuesday morning, the CAs began the day bright and early with an early breakfast. Then, they boarded the busses to the Brunswick Camp Ground. Half of the CAs started the trip with a nice canoe ride.
"Canoeing was my favorite part. It was fun to work as a team to cross the river for miles," said Louise CA Meg.
Meanwhile, the other half biked to Harpers Ferry and enjoyed some ice cream to cool off before biking back to the campsite.
"Biking 14 miles was my favorite part because it is something I can never get anywhere else," said Louise CA Lily.
The CAs came together for lunch. Then, the two groups switched and got to try the other activity. All of the CAs seemed to have an amazing time through this adventurous day.
"The trip was fantastic. I really enjoyed the biking," said Airy CA Matthew.
Yesterday morning, the CAs woke up bright and early to begin the second day of their adventure at Greenbriar State park. Half of the CAs relaxed at the beach and splashed in the water while the other half hiked. The hike began at the Washington Monument State Park where the campers enjoyed the beautiful view and then the campers hiked about 2 miles downhill back to the beach.
Many of the campers found this hike slightly difficult, but extremely rewarding. "It was tiring, but I had a lot of fun. I really bonded with nature and my fellow CAs," said Louise CA Hannah.
After lunch, the two groups traded places. After the second group finished the hike, the CAs came together and relaxed at the beach for another hour. Many of the campers played cards while others cooled off in the water. The CAs had an amazing time trying new activities and bonding together through these new experiences.
"The trip shaped my experience in camp by making me closer to my CA brothers and counselors," said Airy CA Gavin.
CIT OVERNIGHT
There are only a handful of via ferata-style hikes in the world, and the CITs at Camps Airy & Louise were lucky enough to be able to complete one on our very own overnight trip. "Via ferata" is Italian for "iron path." CITs scaled a mountain while being securely clipped into a cable that took them up and over Nelson Rock. This experience was challenging, but CITs worked as a team to encourage each other to conquer their fears and push themselves to new heights. Everyone attempted the Via Ferrata and those who were not comfortable enough to complete the entirety of the course went back down to the bottom after the halfway mark. This means that they completed the most challenging part of the climb. We are all so proud of our CITs for attempting such a challenging climb and cheering each other on! The CITs also hiked around Blackwater Falls and Cannan Valley Animal Refuge on this trip.
CITs were asked about their favorite part of the overnight and what was most memorable for them. Read some of their answers:
"Challenging myself and doing something I never thought I'd do before. I was really scared but all my friends were there to support me." – Louise CIT Rachel B.
"I loved every second of it." – Louise CIT Ally
"I went on and wasn't scared to do it at all and I felt so accomplished and it was really the most amazing thing I've ever done in my entire life." – Louise CIT Rebecca
"During the first part of the via you turn this corner against the rock and there's just this 300 foot drop with an amazing view." – Airy CIT AJ
"It was very memorable just hanging out at the welcome center and just looking around and seeing all of the mountain ranges and taking it in and being at peace." – Airy CIT Jacob
We definitely see some future college essays written about this incredible experience!
Alicia, Marty and our super Trainee Staff
Today's Louise Birthdays
Noa
Today's Airy Birthdays
None – Happy Un-Birthday to All!
Today's Louise Menu
[table "" not found /]
Today's Airy Menu
[table "" not found /]
Today's Airy & Louise Weather

High: 87°F | Low: 64°F
The weather this week has been picture perfect!