Louise Blog
Director's Blog – July 13, 2016
ADVENTURE PARK!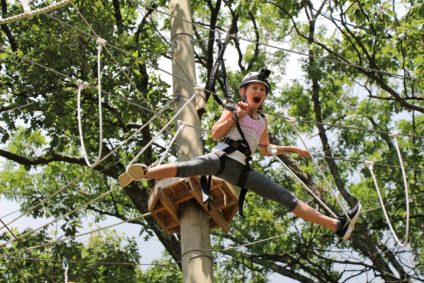 Who doesn't love a good adventure? A trip into the woods, maneuvering through the white water rapids of the Potomac River, hiking up to High Rock for a beautiful view, or our very own Adventure Park…The walk toward Field 1 begins the journey, your heart beating a little faster than usual. You make the approach, looking up at the imposing structure, but slow your step just a bit. Whether you make your way over quickly to get your harness, or stay back a little to observe others first, you know you are in for quite an undertaking. You tighten your harness and put your helmet on, the ODL (Outdoor Louise) staff member checking for a secure fit. After climbing the wooden steps up to the landing, you realize there is no turning back now. You clip in and make your way over the railing, in order to challenge yourself, to prove to yourself that you can do something that may be a little scary. Whether you spend two minutes, ten minutes, or an hour making your way through the course, the quest always ends in a zip line ride or a bungee jump.
Check out this picture. I just love it!  The look on this young lady's face makes me think she enters into challenging situations with courage and bravery. I spoke to this Unit D camper about her experience on the Adventure Park. She explained that she had gone on it last year – but only levels 1 and 2. This year, there was a special sign-up for Senior Camp and she decided that she wanted to give it a try and do level 3. She told me that looking down from way up there can be kind of scary but knowing that people are around to help makes it so much better. Adventure Park is definitely one of her favorite activities at camp and she was so excited to be able to accomplish all of the levels this year!
Has there ever been a time in your life when you needed to tighten your harness, put on your helmet, and make your way through a challenging situation? Did you go into it with a heart filled with fear or a positive attitude? Facing your fears during activities at camp is such great practice for the real world. Camp is a safe place that allows each of our campers to clip in and know that if they fall, they will be caught. Practicing this skill, day in and day out, here at camp, enables our campers to go out into the "real world" with increased self-confidence, greater personal strength, and a willingness to take on a future challenge.
What a great life lesson from our Adventure Park here at Camp Louise!
Alicia
[bq_color]
Today's Birthdays

Emma – Staff
Drew – Staff
[/bq_color]
Today's Menu
[table "" not found /]
Today's Weather
High: 83°F | Low: 72°F – Overcast this morning with a 10 minute rain and then sun the rest of the day!