Louise Blog
Director's Blog – July 14, 2016
Trainee Overnights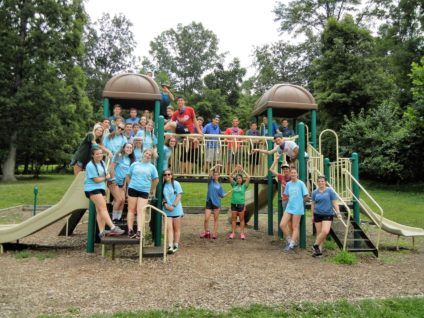 A much-anticipated part of being a trainee is the ever-so-popular overnights. This week, each group traveled to a different location for activities with their Airy counterparts…..
The STs (rising 10th graders) went to Ohio where they stayed at a hotel, enjoyed their indoor waterpark, had a little bit of beach time (with some lakeside folk dancing), and then spent a full day at Cedar Point Amusement Park.
Some comments from the STs about their trip….
"Loved playing Get Up and Move….challenged myself by going on a roller coaster…so fun…loved the freedom….so much bonding with the other Louise STs and the Airy STs too…amazing to get into the park an hour early…loved being just with the unit…really liked that we didn't get to choose our groups for rooms or for the park…hung out with girls we don't usually hang out with and it was great….got to know everyone even better!"
The CAs (rising 11th graders – see picture) headed to Greenbrier State Park for their "TriCAthalon" camping trip. They CAs decided this was the perfect name since they had an opportunity to hike, bike and canoe!
CAs told me…..
"It was SO much fun….I couldn't have canoed without another CA who encouraged me…got so close to everyone…got to spend time with everyone, including the CAs from Airy…challenged ourselves with 4 mile hike, 6 mile canoe, and 11 mile bike…made friends with the people I was biking with…just a ton of fun!"
The CITs (rising 12th graders) spent their time in West Virginia where they camped, hiked and literally climbed a mountain on the Via Ferrata.
The CITs could not wait to tell me about their trip….
"Brought people closer together…the absolute best thing I have ever done…loved it…challenged ourselves…never thought I would be able to do it….I feel like a changed person…definitely more mental than physical…amazing….surreal…hiked up a double black diamond ski slope – so hard but so fun…..everyone helped each other….the most incredible experience of my whole life….made new friends…let my guard down….was so terrified but did it….I never would have been able to have this experience if it wasn't for camp."
One CIT also told me how she feels that all of the trainee overnights had an intentional purpose. They were each challenging and fun in their own ways, and they were all leading up to the CIT Overnight which was just an incredible experience.
Hopefully, these little smatterings of quotes about the overnights gives a taste of what our trainees have just accomplished this week! And to think, there is still over a week left of first session for the STs and CAs and three and a half weeks left for the CITs.
Here's to many more life changing experiences…..
Alicia
[bq_color]
Today's Birthdays

Lillian – Bunk 8
Isabelle – Bunk 7
Drew – Staff
Marina – Staff
Noa – Staff
[/bq_color]
Today's Menu
[table "" not found /]
Today's Weather

High: 90°F | Low: 72°F – A hot one!