Louise Blog
Director's Blog – July 15, 2018
CAMPER-IN-TRAINING DAY 2018
What a day it was at camp! In addition to our over 400 campers, we were joined by over 60 families for Camper In Training (CIT) Day. Wide-eyed prospective campers and their parents came for a taste of what Camp Louise has to offer.
The girls, just like our current campers, are placed into bunks and spend the day like regular campers. They participated in lots of activities. They ventured to Arts & Crafts to make tie-dye pillowcases, learned some classic folk dances and swung from the rafters in Aerial Arts. They joined our campers in the Dining Hall for a typical camp lunch of chicken tenders and tater tots and then they spent the afternoon in our pool going down the waterslides.
Parents were treated to their own day at camp, in their own bunks with counselors too. They toured, danced, and even helped at the farm. At the end of the day, they met up with their girls to grab a snack and reflect on the day. And of course, you can't leave camp without a little swag! All of the campers-in-training went home with a shirt….and ready to make friends for life!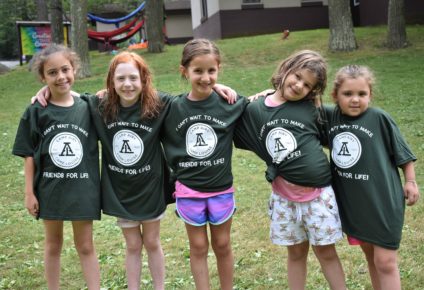 The best part of the day for us was watching all of our current campers, our own CITs (counselors-in-training), and staff welcome the prospective families and show off how much they love camp – not a hard task to do for our amazing community here. They are always eager to share their camp pride with others.
Special thanks to our CIT Day Coordinator (and Rookie Camp Director) Karen Gerton for all of the hard work that goes into making today a success.
We can't wait to see all of our visiting campers back next summer – and maybe even a few later this summer too!
Alicia
[bq_color]
Today's Birthdays

AJ – Bunk 20
[/bq_color]
Today's Menu
[table "" not found /]
Today's Weather

High: 89°F | Low: 73°F
A little overcast today but nothing can stop the Camp Louise fun!