Airy Blog
Director's Blog – July 16, 2018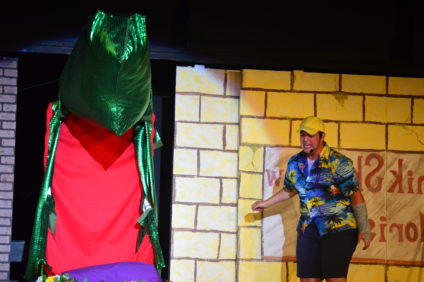 Suddenly, Seymour
Man-eating plants, delirious dentists, scandal on Skid Row … it could only be one thing – "Little Shop of Horrors" performed in July 2018 at the Cohen Theater at Camp Airy in Thurmont, MD. I can't clearly recall in which previous summer I saw "Little Shop" at Airy. It ran once while I was not working at camp. I know I saw it once as a camper, and I'm sure one or more of my camp friends growing up might have been in the show. It's always fun to think about which campers might fill iconic roles from the big stage or screen – Steve Martin, Rick Moranis and Vincent Gardenia to name a few.
In 2018, some Airy CITs filled those very big shoes. The role of Orin Scrivello, DDS was played by Josh. Josh doubled as the voice of Audrey 2. Josh was wonderfully creepy as the dentist – and without giving away too much of the story, he definitely got what he deserved. Fellow CIT Samuel played Mr. Mushnik, the flower shop owner. Samuel brought to life the down-and-out shopkeeper and was convincing in his grumpiness. But why did he look inside Audrey 2's flytrap? Rounding out the trip was Jaxson as Seymour Krelborn. Lovestruck Seymour wants nothing more than to impress Audrey, but he struggles to say or do just the right thing. By the end he really throws himself into the relationship (get it?).
Special congratulations to Airy drama department head Cody. He and his team of TK, Jordan and Josh led a great cast and crew. Jordan and his tech team, as well as Ben and his music team, made the whole evening possible. And to wrap things up, dessert treats for everyone.
Be sure to check out the Camp Louise blog for a recap of their show, "Into the Woods" via https://www.airylouise.org/newsfeed/directors-blog-july-16-2018-2/
Marty
Today's Birthdays
None – Happy Unbirthday to All!
Today's Menu
[table "" not found /]
Today's Airy Weather

High: 93°F | Low: 72°F
Warm and sunny all day!