Louise Blog
Director's Blog – July 19th
STEM Activities at Camp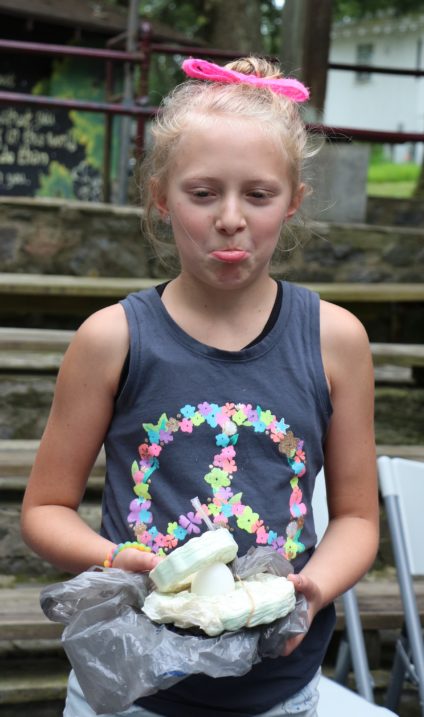 When she was younger, Leah's parents supported her curiosity and love of science. Leah thought about her love of science and love of camp and she wanted to join the two – while fostering it in others. Leah approached me during the year with an idea about bringing STEM (science, technology, engineering, and math) to camp. As a CIT (counselor-in-training), she came up with some activities and we talked about the logistics of making it happen.
In less than four weeks, Leah has created her own department – teaching an egg drop activity, paper airplanes, food science and goop! I spent some time with Leah and with the girls in some of her activities to learn more.
The egg drop activity was a three-day workshop. At the beginning, the campers were given materials. They talked about how to best protect their egg and in groups they came up with designs, which were then presented to the larger group. Feedback was given, models were constructed, and the big drop occurred on the final day of the workshop.   Some eggs made it and others sadly did not (see picture), but regardless of the outcome, ALL of the campers enjoyed the process.
One of the campers told me that she originally signed up for the activity because she had heard about the egg drop at school, but had never had the chance to do it. She enjoyed getting into teams and working together on the design. There was a lot of anticipation before the big drop. She was sure her egg was going to "explode" when dropped from Terrace Theater all the way down to Solarium, so she was pretty happy when it only cracked a little. This definitely makes her want to do more science experiments because this one "turned out to be really fun!"
This is just what Leah was trying to accomplish! She wants to make STEM fun and exciting! "The campers are learning and appreciating science. They are not in school so it is more enjoyable and appealing! I love how enthusiastic the campers are."
I can't wait to follow-up with Leah throughout the summer as she reaches more campers with her STEM activities.
Good night to all!
Alicia
[bq_color]
Today's Birthdays

Shannon – Bunk 26
Ally – ST
Todd – Staff
[/bq_color]
Today's Menu
[table "" not found /]
Today's Weather

High: 83°F | Low: 62°F – Beautiful day!!!!