Airy Blog
Director's Blog – July 2, 2017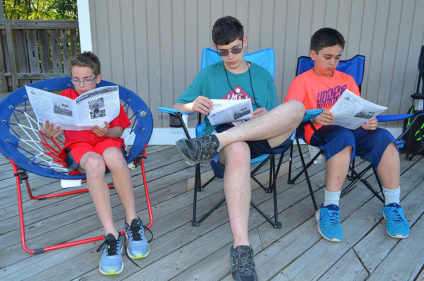 "Extra Extra Read All About It"
Just as this blog serves as a daily source of camp information for people outside of the 21788 zip code, "The D'Airy" fills the news void for Airy campers. "The D'Airy" is a staff and camper collaborative effort, led by the Airy Public Relations department. Linda and Seth lead the team, facilitating counselors and campers getting the news that matters all over the mountain.
"The D'Airy" is the latest in a long line of Camp news publications. And "The D'Airy" sets the bar high, as it is a daily publication. I am proud to have worked on earlier versions of Camp Airy news publications. As a CIT and counselor, I contributed to "The Airy Mountain Press." I learned under the tutelage of some great camp journalists – Mike Danowitz, Jeff Goldscher and Mike Rabkin.
When it was my turn to lead the AMP, our team included Adam Clay and Seth Leeds. It was a biweekly publication. Campers in each bunk wrote a Bunk biography. Top 10 Lists were popular, and we had lots of fun goofing around with the staff box – one edition we were cartoon characters, another edition we were all baseball players. There were not many technology tools at our disposal – like laptops and high speed copiers. We printed on dot matrix printers, and used a mimeograph machine to make copies. The campers in our bunks joined us for collating parties, and we rewarded them with pizza and bug juice. In the wee hours of the morning, we'd put copies of the AMP on bunk tables in the dining hall. Campers and staff enjoyed the morning surprise.
Then and now, the newspaper is important in camp. It provides an outlet for creativity, journalism, and interaction between people. Seeing young campers with "press" badges and notepads interviewing staff is special. Every evening, The "D'Airy" is delivered via bicycle. Campers eagerly await the delivery on their bunk porches. Then they sit, read and chuckle.
Who says newspapers are soon to be extinct? Not at Airy.
Marty
Today's Birthdays
None
Today's Menu
[table "" not found /]
Today's Weather

High: 88°F | Low: 67°F
Warm with wispy clouds