Airy Blog
Director's Blog – July 2, 2018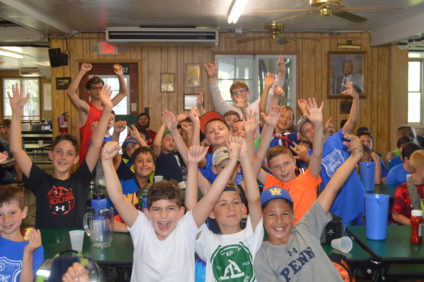 "Feelin' Hot Hot Hot!"
Of course we expect some hot days in the camp schedule, but after the REALLY warm day on Sunday, Monday was … well, HOT. We were able to run a regular morning schedule with a few extra rests and water breaks, but we made the decision to suspend the afternoon schedule in favor of a cooler, shadier afternoon. We devised three rotations by divisions:
One station was the Dining Hall. "Why," you may ask? Two words – air conditioning.
Dining hall activities included:
Bingo
Watching the World Cup
Board Games
Card Games
A guest alumni speaker for trainees
Snack and Water
Another station was the Chernak Gym. Why? Two words – plentiful shade.
Gym activities included:
Basketball / Knockout
Dodgeball
Gaga in the wrestling room
Spike Ball
The third station, and clearly the most popular, was the pool. Why? Two words – splish splash.
Free swim is always a good time at Airy. There's basketball in the shallow end, and the super cool combo of climbing wall and log rolling in the deep end. Campers and staff love to listen to tunes on the pool sound system while floating on noodles in the water.
Following the afternoon rotations and dinner, campers resumed the easy pace with Electives. By that time a decent evening breeze blew in and the night ended rather pleasantly. Regardless of what tomorrow brings in terms of heat, our Airy boys will find a way to have FUN.
Marty
Today's Menu
[table "" not found /]
Today's Airy Weather

High: 94°F | Low: 74°F
Hot and Sunny … again!