Airy Blog
Director's Blog – July 25, 2018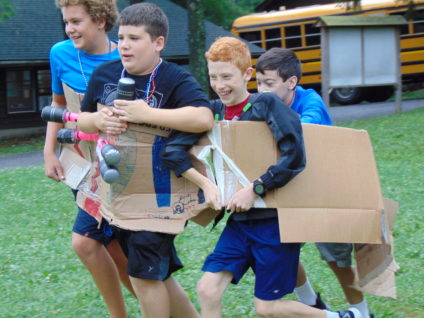 "The Sun Will Come Out … Tomorrow?"
When we give tours at camp in the preseason, a typical question and answer session features "What do you all do when it rains?" As our third consecutive day of day covered Thurmont, I feel like I am now more qualified than ever to answer that question.
Since Monday afternoon, Airy's supervisory team has been designing and implementing the camp-iest program possible. Creativity, ingenuity and a few transport vans here and there helped to get our campers and up and moving. Every department in camp offered ways for campers and staff to get active and play despite the rain that was rearing its ugly head.
Our campers and staff were:
Fishing at the ponds … Climbing walls in Parkour … Stuffing bears in Fun FactAiry … Slip and Sliding on the Uphill Ballfield … Mastering an escape room in the Earth Lodge … Zipping down zip lines … Drumming on djembes … Hooping in the gym … Going gaga in the wrestling room … Cup Caking in CulinAiry … Improv-ing with Drama staff … Gameshows and musical chairs and lip synch and board games and bunk chilling and more …
… And whatever it is that the campers in today's blog photo are doing?!? After some investigating, I learned that this is Airy's Unit D. They were tasked with building and decorating cardboard carts, and then negotiating an obstacle course in the cart. Also on Wednesday, for a change of pace and scenery, we took everyone in camp out on a field trip. Right after breakfast, we took the Rookies and Junior camp over to Sunshine Lanes for bowling. After lunch, Senior camp headed over to bowl at Sunshine Lanes. Finally, after dinner, the Trainee division took in a movie (with snacks of course) in Frederick.
As you are reading this blog, the skies in camp are clearing and the sun has returned! And not a moment too soon, as we will be spending much of Thursday prepping for the Airy-Louise Carnival / Dance / Fireworks extravaganza. Airy is happy to host, and even happier to do so on a much-deserved beautiful day at camp.
Marty
Today's Birthdays
Noah
Today's Menu
[table "" not found /]
Today's Airy Weather

High: 81°F | Low: 67°F
Broken record forecast – It was wet, it was dry, it was wet, it was dry …!