Airy Blog
Director's Blog – July 26, 2016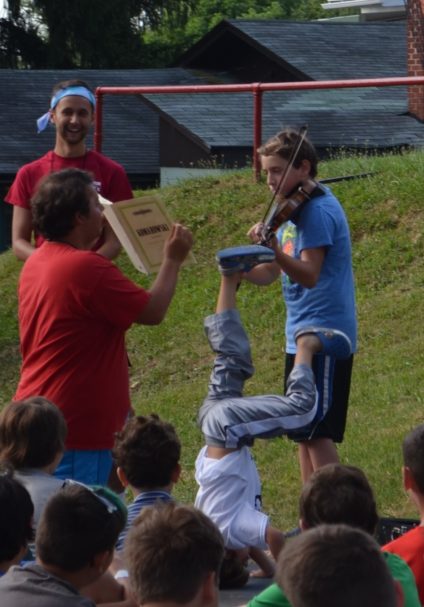 Let's take a quick inventory of all that is going on in this picture: A man wearing a tie-dye bandana approvingly looks on as a camper plays violin. In front of the violin virtuoso is another camper break-dancing. And let's not look past the counselor on bended knee, playing the role of music stand. We call this activity "Tuesday morning lineup." Let me explain.
Every morning Sunday through Friday, we gather as a whole camp for morning lineup. The lineup is a hybrid of tradition, improvisation, and information. In this day and age of camp where there are so many individual choices and options for campers on a daily basis, the morning lineup remains a time for camp to gather as a whole community. Today's lineup (and every Tuesday) was led by Airy's junior camp Unit Leaders – Zach, Harry and David. They advocate for "Tie Dye Tuesday," which has been a source of strife for another group on unit leaders who champion the cause of "Neon Tuesday" from 2015. Their feud plays out at lineup. Zach, Harry and David also call upon campers from their division to show off their "super powers" (imagine a kid-version of David Letterman's old bit with human tricks). Today was breakdancing to violin music.
Each day's lineup schtick is sandwiched between an opening which involves flag raising and the Pledge of Allegiance, and a closing component of news and announcements. We will share baseball scores, reminders of trips, and information about coming attractions. And no morning lineup would be complete without birthday recognition and "Go-Motzi" (translation – that's Hamotzi, recited as a group at lineup on the go, with a Poptart).
Let's go to breakfast!
Marty
Today's Birthdays
Andrew – staff
Today's Menu
[table "" not found /]
Today's Weather

High: 93°F | Low: 72°F
Hot … but it didn't feel as hot as yesterday.