Louise Blog
Director's Blog – July 26, 2016
What does this picture say to you?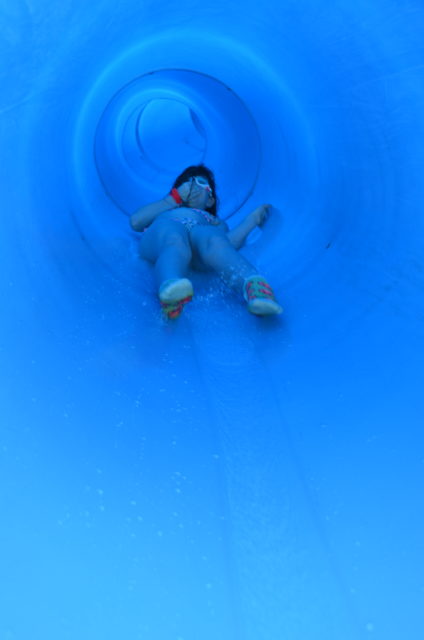 How do you think this camper felt as she climbed up to the top, got into the tube and plummeted to the bottom?
Was it her first time down the slide or her tenth? Did she know what to expect or did she have no idea – taking a risk and hoping for happiness and reward?
Did she climb up to the top with trepidation? Did she run up excitedly? Did she feel a rush of happiness? Nervousness? Did she wait a few seconds or a few minutes at the top once she was in the slide before taking that plunge? Did she fly into the unknown with no fear?
Did she think – I can get through this? It's all downhill from here?
At the bottom as she emerged into the sunshine and sparkling, cool water, did she feel success and accomplishment? Did she run back up to the top to try it again – maybe a different color slide this time or a repeat performance of the same one?
On these steamy, hot days of summer, the slides at the pool are not only refreshing. That final splash is freeing and restoring. It can clear your mind. It can prepare you for the next risk, the next reward – be that another turn on the slide or something bigger and better!
How do you approach the big slides in your life? And what's around the next corner for you?
Some things to think about……
Alicia
[bq_color]
Today's Birthdays

Jordan – Bunk 17
Micah – Staff
[/bq_color]
Today's Menu
[table "" not found /]
Today's Weather

High: 95°F | Low: 72°F – A hot one with some cool breezes throughout the day!