Airy Blog
Director's Blog – July 28, 2015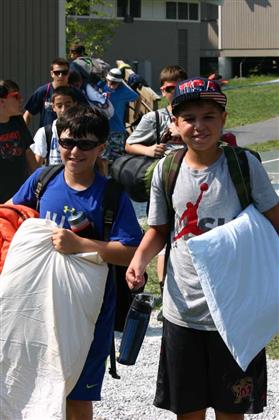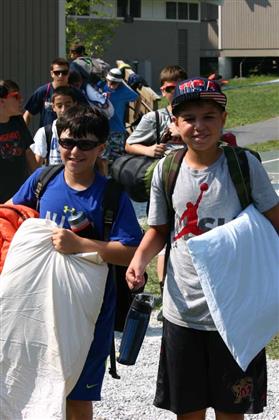 The smiling children in this picture have a great reason to be doing so. They are headed downhill for a 24-hour campout, hosted and guided by the Airy Outdoors Department. For many, this means an opportunity to do something that doesn't happen at home. It's different, exciting, and presents a challenge.
Every day, Airy campers are invited to take on challenges of all types … strumming a new chord on the guitar, mastering a stroke at the pool, coming through in the clutch during a league game in basketball, or setting up camp for an overnight.
Airy provides the safe, supportive place where children can attack a challenge without fear of failure. At Airy, our campers' confidence is bolstered by the high level of instruction provided by staff, and also by a supportive network of bunkmates and friends. I am proud to count myself among the boys who overcame obstacles or achieved a "milestone" at Airy. I learned to swim at camp. I slept outside in a tent for the first time at camp. I hiked in a creek, ascended a fire break, played soccer against a Brit, and delivered a camp reflection at services.
Without the support of staff and fellow campers, none of that could have happened. Because I wasn't afraid to fail, there was no doubt in my mind that I would succeed. "New" wasn't nerve-wracking. "New" meant that something cool was about to happen.
Borrowing a popular phrase around here, campers are able to find their "inner awesome." I also believe that Airy staff find some of their own inner awesome at camp while helping campers find theirs.
So tomorrow may be my day, or another camper's day, to embark on a campout. Or audition for the solo. Or take the deep water test. In a place like this, success is sure to be the end result.
[bq_color]
Today's Birthdays

Jack F.
Joseph M.
Joen N.
[/bq_color]
Today's Menu
[table "" not found /]
Today's Weather

High: 91°F | Low: 73°F

Today was sunny and warm … a nice day overall.
Marty Rochlin
Director