Airy Blog
Director's Blog – July 28, 2016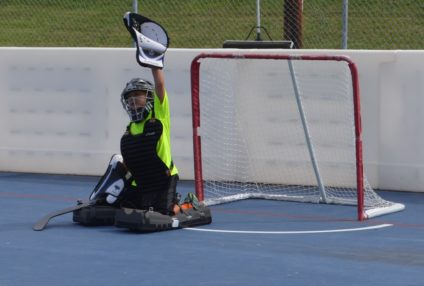 Today was a rainy day up at camp. After a morning of regular schedule, the rain fell – off and on bust mostly on – and camp moved into Rainy Day mode. In rainy day mode, our collective creativity is put to the test. What activities can be done in our covered spaces around camp? Letter writing and taking a nap might work sometimes, but if the rain is such that campers and staff can still safely to a covered facility, we like to use spaces such as the Gym, Culin-Airy, and Nature.
On rainy days, we'll also see campers and staff playing creative games involving trivia, wacky events, and impromptu game shows. In that same spirit, let's take some time in today's blog to play "Write a caption." On the surface, we see a camper showing his goalie prowess in street hockey. But maybe the story is really …
A. "Wait, this is hockey? I though this was the Statue of Liberty costume / look-alike contest?"
B. "Aarghh … I spent all this time getting buckled and snapped, and now I have an itch that I can't reach!?!"
C. "Oooh … pick me, pick me. What's that you said? People are going to slap pucks at me? Just kidding. Who wants to swap positions with me?"
D. "Please take my picture. I look cool in this gear. Camp is awesome, rain or shine, and my parents love your blog Marty."
Fun is the name of the game at camp – whatever the weather. I am impressed at our campers' and staff's flexibility and creativity to have fun together, and very thankful that we do so safely when the weather throws us a curveball.
Looking forward to a sunny Friday,
Marty
Today's Birthdays
Joey
Jack
Joey
Today's Menu
[table "" not found /]
Today's Weather

High: 88°F | Low: 70°F
It rained … alot.