Airy Blog
Director's Blog – July 28, 2017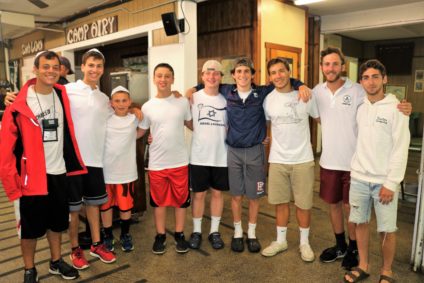 "Hey Brother"
Shabbat Shalom! The first Shabbat of our new session was ushered in by quite the deluge of rain, but how could we feel down for long with grape juice, challah and "Bim Bam?"
We often refer to camp as a "family," and in our camp family there are many, many brothers. The blog picture shows you two kinds – brothers by birth and brothers by choice.
At camp, they are often times one in the same.
Consider this definition:
Brother – a person who's there when you need him, someone who picks you up when you fall, a person who sticks up for you when no one else will, a brother is always a friend.
Or this one:
Brothers don't necessarily have to say anything to each other – they can sit in a room and be together and just be completely comfortable with each other.
Shabbat at camp is a time when we slow down the active pace of the week and take time to pause, to reflect. While campers may spend much of the week at activities with their bunkmates, and with campers who have similar activity interests, Shabbat brings everyone together – services together, song session together, movie night together. These whole-community moments foster the brother connection that exists all throughout camp.
The idea of a brother a camp takes on added significance when our campers become trainees. These are the young men who participate in leadership development, and later join our staff as counselors. As trainees, the campers no longer request bunkmates. And as trainees, the notion of bunk fades away and in its place is the word unit. These are the summers where the brother connection is fortified.
I have a sister, and we're close and we hang out and so do our families. Camp provided for me brothers. It started with the Charkatz boys on Tema Road and Bunk Row many moons ago, and has continued on the mountain and off throughout my 30+ years affiliated with Camp Airy – wedding guests, birthday celebrants, fantasy football league members, golf foursomes, road trips to sporting events and more. They cheered when I got this job, and have paid me the ultimate compliment in sending their own children to our camps.
This week's middah (value) was gratitude. I know we are all thankful for our friends, our bunkmates, our brothers.
Marty
Today's Birthdays
Jack F.
Joey M.
Joey N.
Jeffrey W.
Today's Menu
[table "" not found /]
Today's Weather

High: 80°F | Low: 66°F
An overcast morning gave way to LOTS OF RAIN!