Louise Blog
Director's Blog – July 28, 2017
MIDDAH OF THE WEEK – COURAGE/OMETZ LEV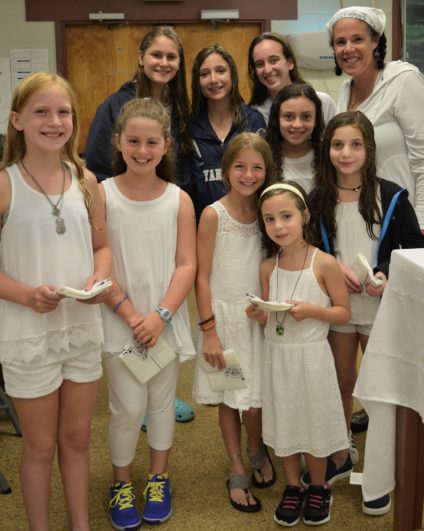 Our Middah of the Week program is continuing to go strong! Each week, we focus on a different middah/value, and this week's was courage/ometz lev.
In our Daily newsletter this week, we discussed:
Courage in Jewish life isn't always about acts of bravery, like saving someone from a burning building. Instead, it's about how you take the strength of your heart and use it to do things that scare you.
In the Torah, when Moses is turning over the leadership of the people to Joshua, he says, "Chazak v'amatz – be strong and of good courage" How would it feel to hear those words from someone you admire when you're having a hard time? Could you ever say them to a friend?
Who are the courageous people you admire – people you know personally or famous figures?
It can take courage/ometz lev to speak your truth and do your own thing when it is different from the rest of the group. It is hard to say "I want to do x" if everyone else thinks x is uncool. Is that a kind of courage you can have today?
And then we have our real life camper stories this week. The following campers were nominated to light candles with me because they demonstrated courage:
One camper discovered her bravery during NUTS (Night Under the Stars) by sleeping in a tent after never having done so before. She also gave another bunkmate one of her own stuffed animals to sleep with for the entire week!
When faced with a little challenge of missing home, this camper found more and more of her inner awesome with each passing day. Her smiles this week have truly been contagious!
This camper was a bit apprehensive about going on the Adventure Park, but she mustered up the courage and did it twice! Way to go!
This camper was a little nervous about camp at first. With the courage of a positive outlook, she is having a blast and Camp Louise is becoming her second home.
Another camper showed courage because this is her first summer at camp and she has already made so many new friends. Her bunk feels like she has been going to camp with them for years!
This camper was a little worried about coming to camp, but by lunch time on the very first day she was already doing great! It was so brave of her to be so outgoing and to make it a point to talk to lots of new people.
This ST signed up to do the half shot court during the staff basketball game even though she was nervous about it. Also as an ST, it's the first year of no bunk requests and she has been making so many new friends and starting conversations with new people. Way to go!
Although she is afraid of heights, this ST conquered the Adventure Park!   At first, she was hesitant, but with persistence, she completed the whole level.   She showed great courage and conquered a fear!
One of our CAs was nominated by her CA sisters for being courageous. After going to camp first session for her whole life, she came second session this year after the Maccabiah Games prevented her from coming first session. She didn't let this stop her from coming back to her summer home. She was incredibly courageous to come into a group of girls she did not know and her CA sisters are so glad that she did!
How can you show courage today – just like all of these campers?
Shabbat Shalom,
Alicia
[bq_color]
Today's Birthdays

Lana – Bunk 26
Sara – Outdoors Counselor
[/bq_color]
Today's Menu
[table "" not found /]
Today's Weather

High: 76°F | Low: 61°F – Cool and wet but still so fun!